Literature and Film: A Guide to the Theory and Practice of Film Adaptation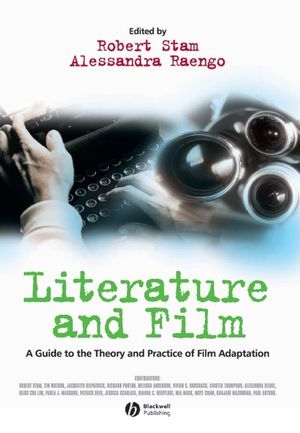 Literature and Film: A Guide to the Theory and Practice of Film Adaptation
ISBN: 978-0-631-23054-0
Oct 2004, Wiley-Blackwell
376 pages
Description
Literature and Film is a cornucopia of vibrant essays that chart the history and confluence of literature and film. It explores in detail a wide and international spectrum of novels and adaptations, bringing together the very latest scholarship in the field.
List of Illustrations.
Notes on Contributors.
Preface.
Acknowledgments.
Introductory Essay: The Theory and Practice of Adaptation: Robert Stam.
1. Improvements and Reparations at Mansfield Park: Tim Watson (Princeton University).
2. Keeping the Carcass in Motion: Adaptation and Transmutations of the National in The Last of the Mohicans: Jacquelyn Kilpatrick (California State University, Channel Islands).
3. The Discreet Charm of the Leisure Class: Terence Davies's The House of Mirth: Richard Porton (Cineaste magazine).
4. In Search of Adaptation: Proust and Film: Melissa Anderson (CUNY Graduate Center).
5. The Grapes of Wrath: Thematic Emphasis through Visual Style: Vivian C. Sobchack (UCLA).
6. Cape Fear and Trembling: Familial Dread: Kirsten Thompson (Wayne State University).
7. The Carnival of Repression: German Left Wing Politics and The Lost Honor of Katarina Blum: Alexandra Seibel (New York University).
8. Serial Time: Bluebeard in Stepford: Bliss Cua Lim (University of California, Irvine).
9. Boyz 'N the Hood Chronotope: Spike Lee, Richard Price, and the Changing Authorship of Clockers: Paula J. Massood (Brooklyn College, CUNY).
10. Defusing The English Patient: Patrick Deer (New York University).
11. Carnivals and Goldfish: History and Crisis in The Butcher Boy: Jessica Scarlata (New York University).
12. Mild Revisionism, Failed Revolts: Esquivel's and Arau's Like Water for Chocolate, A Retrospective View: Dianna C. Niebylski (University of Kentucky).
13. Beloved: The Adaptation of an American Slave Narrative: Mia Mask (New York University).
14. Oral Traditions, Literature and Cinema in Africa: Mbye Cham (Howard University).
15. Memory and History in the Politics of Adaptation: Revisiting the Partition of India in Tamas: Ranjani Mazundar (Jamia Millia Islamia).
16. The Written Scene: Writers as Figures of Cinematic Redemption: Paul Arthur (Montclair State University).
Index
"Stam and Raengo's
Literature and Film
offers a wonderful collection of approaches to the multifaceted and sometimes contradictory relationship between the written word and the filmic image, bringing into the discussion a refreshing series of examples drawn from international and minority cinemas."
Richard Pea, Columbia University


Brings together the very latest scholarship in the field of literature and film studies, written by leading international experts.

Explores in detail a wide spectrum of novels and adaptations, from established classics (The Grapes of Wrath, The Last of the Mohicans ) to genre works (Dracula, Cape Fear) to contemporary classics (The English Patient, Beloved).

Analyses individual films as well larger themes.