Litigation Services Handbook: The Role of the Financial Expert, 4th Edition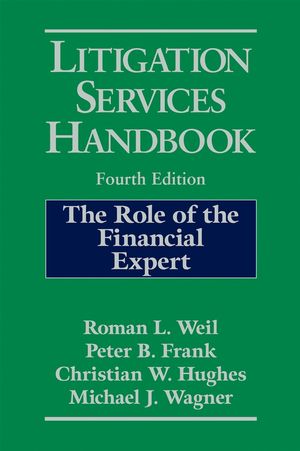 Litigation Services Handbook: The Role of the Financial Expert, 4th Edition
ISBN: 978-0-470-05268-6 January 2007 1200 Pages
Description
Litigation Services Handbook, Fourth Edition is referred to as the litigation bible. Its nearly 50 chapters read like a who's who in law and accounting. The handbook includes all aspects of litigation services, including current environments, the process itself, a wealth of cases, how to prove damages, and practical considerations of court appearances. The new edition has a heavy focus on fraud investigations and complying with Sarbanes-Oxley requirements.
Preface vii
About the Editors ix
About the Contributors xiii
PART I: THE LITIGATION ENVIRONMENT
1. The Role of the Financial Expert in Litigation Services 1.1
Peter B. Frank
Christian W. Hughes
Michael J. Wagner
Roman L. Weil
2. Causation Issues in Expert Testimony 2.1
Lawrence F. Ranallo
Diana L. Weiss
3. The Economics in Accounting for Litigation 3.1
Elizabeth A. Evans
4. Alternative Dispute Resolution 4.1
Patricia D. Tilton
PART II: DAMAGES TECHNIQUES
5. Statistical Estimation of Incremental Cost from Accounting Data 5.1
Michael W. Maher
M. Laurentius Marais
William E. Wecker
Roman L. Weil
6. Econometric Analysis 6.1
Mohan P. Rao
Christian D. Tregillis
7. Estimating the Cost of Capital 7.1
Gaurav Jetley
R. Jeffrey Malinak
Laura B. Stamm
8. Ex Ante versus Ex Post Damages Calculations 8.1
Michael J. Wagner
Michael K. Dunbar
Roman L. Weil
9. Prejudgment Interest 9.1
Michael S. Knoll
Jeffrey M. Colón
10. The Flaw of Averages in Law and Accounting 10.1
Sam L. Savage
Marc Van Allen
11. Valuing Losses in New Businesses 11.1
Mark A. Allen
Victoria A. Lazear
12. Business Interruption Insurance Claims 12.1
Joe Anastasi
13. Business Valuation 13.1
Michael A. Crain
Chapter 13 Appendix: Adjusted Present Value (APV) Method
Bonnie J. Goldsmith
Greg Hallman
14. Lost Earnings of Persons 14.1
Randi L. Firus
Keith R. Ugone
15. Punitive Damages 15.1
Peter A. Bicks
Martha N. Corbett
Glenn K. Jones
Gregory N. Phelps
16. Tax Treatment of Damages Awards 16.1
Merle Erickson
James K. Smith
PART III: LITIGATION TOOLS
17. Data Management 17.1
David B. Burg
Dyan A. Decker
John C. Moorman
PART IV: CIVIL LITIGATION
Securities and Accountant Liability
18. Federal Securities Acts and Areas of Expert Analysis 18.1
Nicholas I. Crew
Kevin L. Gold
Marnie A. Moore
19. Accountant Liability 19.1
Christopher D. Barbee
Michael R. Young
Intellectual Property
20. Economic Analysis of Nonpatent Intellectual Property Rights and Damages Measures 20.1
Elizabeth A. Evans
Peter P. Simon
21. Intellectual Property Damages in the Entertainment Industry 21.1
Deborah K. Bothun
Ronald B. Cushey
Bronwyn Dylla
Robert S. Knudsen
22. Patent Infringement Damages 22.1
Peter B. Frank
Vincent E. O'Brien
Michael J. Wagner
23. License Compliance: Performing Royalty Examinations 23.1
Mark W. Haller
David L. Marston
Vincent Torres
Antitrust/ Business Combination
24. Antitrust 24.1
Stephen H. Kalos
25. Disputes in Merger & Acquisition Transactions 25.1
Mark W. Haller
Kevin D. Kreb
Leigh Walton
Construction and Real Property Disputes
26. Construction Claims 26.1
Stephen P. Lechner
Bilge Astarlioglu
27. Quantifying Damages in Real Estate Litigation 27.1
Thomas E. Kabat
Frank A. Voorvaart
Other Civil Litigation
28. The Troubled Business and Bankruptcy 28.1
Grant W. Newton
Gil A. Miller
29. Alter Ego 29.1
Michael J. Wagner
Bonnie J. Goldsmith
30. Employment Litigation 30.1
Ali Saad
31. Federal Contract Disputes 31.1
James W. Thomas
PART V: FAMILY LAW
32. Valuation and Division of Marital Property 32.1
Donald A. Glenn
33. Child and Spousal Support Awards 33.1
John D. Zante
34. Marital Dissolution: Professional Goodwill and Related Intangibles 34.1
Donald L. Gursey
Donald John Miod
35. Marital Dissolution: Tracing and Apportionment of Assets 35.1
Donald L. Gursey
Donald A. Glenn
36. Marital Dissolution: Tax Considerations 36.1
Donald L. Gursey
Roseanna L. Purzycki
Brandi N. Brethour
PART VI: CRIMINAL CASES
37. Tax Fraud 37.1
Edward M. Robbins, Jr.
PART VII: INVESTIGATIONS
38. Financial Statement Investigation 38.1
Steven L. Skalak
Charles R. Hacker, Jr.
Daniel V. Dooley
39. International Investigations 39.1
Frederic R. Miller
Glossary
Index