Litigation Services Handbook: The Role of the Financial Expert, 6th Edition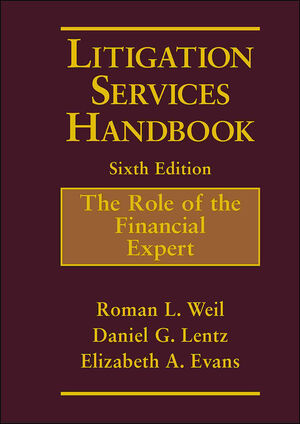 Litigation Services Handbook: The Role of the Financial Expert, 6th Edition
ISBN: 978-1-119-36318-7
Apr 2017
1440 pages
Description
The comprehensive "bible" for financial experts providing litigation support
The Litigation Services Handbook is the definitive guide for financial experts engaged in litigation services. Attorneys require financial experts now more than ever, and this book provides the guidance you need to provide a high level of service as witness and consultant. Enhance your litigation skills as you delve into the fine points of trial preparation, deposition, and testimony; project authority under examination, and hold up to tough questions under cross-examination. Fraud investigations are a major component of litigation support services, and this book delves deep into Sarbanes-Oxley compliance and other relevant topics to give you a foundational understanding of how these cases are prosecuted, and your role as the financial services expert. This updated sixth edition includes new coverage of technology's role in the financial expert's practice, and the focus on investigations provides practical insight from leading experts in the field. From the process itself to proving damages, this indispensable reference covers all aspects of litigation services.
Providing litigation support requires more than just your financial expertise; you also need a working knowledge of relevant case law, and a deep understanding of both the litigation process and the finer points of courtroom appearances. This book provides the insight and perspective you need to provide superior service to attorneys and their clients.
Understand your role in trial preparation and testimony presentation
Provide authoritative responses to direct and cross examination
Examine and analyze Sarbanes-Oxley rulings
Lend financial expertise to fraud investigations
The growing demand for financial expert litigation services has created a niche market for CPAs, creating a lucrative opportunity for qualified accountants who also possess the specialized knowledge the role requires. The Litigation Services Handbook is THE essential guide for anyone involved in financial litigation.
Preface xi
PART I: THE LITIGATION ENVIRONMENT
1. A Dispute Resolution Primer 1.1
Elizabeth A. Evans, Daniel G. Lentz, Roman L. Weil
2. Serving as a Financial Expert in Litigation 2.1
Elizabeth A. Evans, Roman L. Weil
3. Testimony Considerations 3.1
Part A: Daubert Criteria
Douglas E. Branch, Saleema K. Damji
Part B: The Art of Testimony
Daniel G. Lentz
PART II: DEVELOPING A DAMAGES ANALYSIS
4. Damages Theories and Causation Issues 4.1
Elizabeth A. Evans, Phil J. Innes, Daniel G. Lentz
5. Ex Ante versus Ex Post Damages Calculations 5.1
Elizabeth A. Evans, Roman L. Weil
6. Use of Statistical Sampling in Litigation 6.1
Mark A. Gustafson, Peter P. Simon
7. Survey Research in Litigation 7.1
Paul J. Lavrakas, Jeffery A. Stec
8. Statistical Estimation of Incremental Cost from Accounting Data 8.1
M. Laurentius Marais, William E. Wecker, Roman L. Weil
9. Econometric Analysis 9.1
Anna C. King, Mohan P. Rao, Christian D. Tregillis
10. Estimating the Cost of Capital 10.1
R. Jeffrey Malinak, Justin McLean
11. Business Valuation 11.1
Joseph J. Galanti
12. Business Interruption Insurance Claims 12.1
Daniel G. Lentz, Robert M. Reeves
13. Lost Earnings of Persons 13.1
Daniel G. Lentz, Elizabeth B. Sandza
14. Expert Analysis of Class Certifi cation Issues 14.1
Christopher Chorba, Mark A. Gustafson, D. Lee Heavner, Peter P. Simon
PART III: LITIGATION TOOLS AND TECHNIQUES
15. Data Management 15.1
Karen M. Cheek, Erik W. Gibson, Cathy Hasenzahl, Matthew P. Jennings, Russell L. Miller, Vincent M. Walden
PART IV: ANCILLARY ISSUES IN DAMAGES MATTERS
16. Prejudgment Interest 16.1
Jeffrey M. Colón, Michael S. Knoll
17. Punitive Damages 17.1
Peter A. Bicks, Rachel M. McKenzie, Shasha Y. Zou
18. Tax Treatment of Damages Awards 18.1
Jill Kennedy, Tim Sherman
PART V: CIVIL LITIGATION
Intellectual Property
19. Economic Analysis of Nonpatent Intellectual Property Rights and Damages Measures 19.1
Elizabeth A. Evans, Peter P. Simon
20. Patent Infringement Damages 20.1
Landan J. Ansell, John W. Holzwarth, Vincent E. O'Brien, William B. Scally
21. Role of Financial Experts in ITC Section 337 Investigations 21.1
Ryan N. Herrington, Brendan P. Rogers
22. Calculating Infringer's Profi ts in Trademark, Copyright, and Design Patent Cases 22.1
Christopher P. Gerardi, Dawn R. Hall, Juli Saitz
23. Royalty Audits and Contract Compliance Investigations 23.1
Ben W. Sheppard
Ownership and Business Failure
24. Merger and Acquisition Transaction Disputes 24.1
Elizabeth K. Gulapalli, Christen L. Morand, Gregory E. Wolski
25. The Troubled Business and Bankruptcy 25.1
Daniel G. Lentz, Grant W. Newton, Lynda H. Schwartz
26. Alter Ego 26.1
Elizabeth A. Evans, Daniel G. Lentz
Regulatory Litigation
27. Federal Securities Acts and Areas of Expert Analysis 27.1
Kevin L. Gold, Eric Korman, Ahmer Nabi
28. Economic Analysis in Securities Class Certification 28.1
Michal A. Malkiewicz, Cathy M. Niden, Mohan Rao
29. Monitorships and Deferred Prosecution Agreements: History, Process, and Recent Trends 29.1
Norman J. Harrison
30. Securities Finance Disputes 30.1
Edmon W. Blount, Eric B. Poer, Tiko V. Shah
31. Antitrust 31.1
Amy W. Ray, Christopher D. Wall
32. Federal Contract Disputes 32.1
Andrew G. Artz, Sajeev D. Malaveetil
Construction and Real Property Disputes
33. Construction Claims 33.1
Bilge Astarlioglu, Stephen P. Lechner
34. Real Estate Litigation 34.1
Mariano S. Borges, Steven A. Klett, Mark R. Molepske, Michael E. Straneva
Other Civil Litigation
35. Accountant Liability 35.1
Mark A. Carlson, Thomas H. L. Selby
36. Executive Compensation in the Litigation Setting 36.1
Eli Bartov, Lynda H. Schwartz
37. Covenants Not to Compete ("Noncompete Agreements"or "NCAs") 37.1
Elizabeth A. Evans, Kevin F. Rasmussen, Roman L. Weil
38. Employment Litigation 38.1
Christopher Haan, Elaine Reardon, Ali Saad
39. Fair Lending Litigation 39.1
Joshua Garcia, Valerie L. Hletko, H Joshua Kotin, Benjamin P. Saul
PART VI: CRIMINAL MATTERS AND INVESTIGATIONS
40. Tax Fraud: Criminal Cases 40.1
Edward M. Robbins Jr.
41. Financial Statement Investigations 41.1
Dean C. Bunch, Karen M. Cheek, Desi Ivanova
42. Health Care Fraud and False Claims Act Damages 42.1
Frank E. Correll Jr., Thomas A. Gregory, Gregory M. Luce, Karen A. Makara
43. International Investigations: Successful Planning and Execution 43.1
Sergio P. Negreira
PART VII: FAMILY LAW
44. Family Law Services 44.1
Donald A. Glenn, Charles A. Burak
About the Editors
About the Contributors
Index