Live it Up without Outliving Your Money!: 10 Steps to a Perfect Retirement Portfolio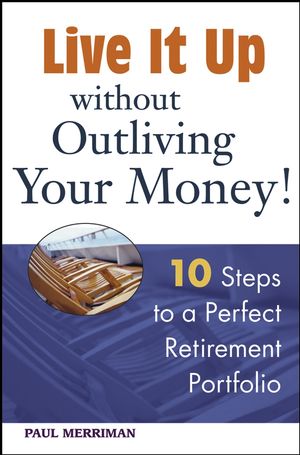 Live it Up without Outliving Your Money!: 10 Steps to a Perfect Retirement Portfolio
ISBN: 978-0-471-73179-5
May 2005
272 pages
Description
Live It Up without Outliving Your Money!

"Paul Merriman's new book is a rich and meaty guide to achieving real retirement security. It's full of wise, easy-to-follow advice that will stand the test of time."
--Knight Kiplinger, Editor in Chief, Kiplinger's Personal Finance Magazine and The Kiplinger Letter

"Read, Live It Up! Not only does Paul Merriman know the secret to making your money work as hard as you do, he loves helping people achieve their goals and dreams."
-Paul B. Farrell, author of The Millionaire Code, The Winning Portfolio and The Lazy Person's Guide to Investing

An educational and motivational guide to retiring without running out of money

No one understands this better than Paul Merriman. For four decades, Merriman has helped and watched people manage their money--both before and during retirement. Now, in Live It Up without Outliving Your Money!, Merriman distills what he has learned into a sound, time-tested approach to creating a portfolio that will fulfill your unique retirement needs.

Based on Merriman's popular retirement workshops, Live It Up without Outliving Your Money! offers ten straightforward steps to creating and maintaining the perfect retirement portfolio. From determining how much you will need to live on after retirement to recognizing and controlling the expenses of investing, the easy-to-understand strategies outlined within these pages can help you regain confidence in your retirement plan.

Stay current! visit www.wiley.com/go/paulmerriman
INTRODUCTION.
Part I: Why Some Succeed and Many Fail.
Chapter One: Why Investors Fail.
Chapter Two: Stress versus Success: A Tale of Two Investors.
Chapter Three: Lessons from Smart People.
Chapter Four: The Psychology of Successful Investing.
Part II: You Can Win the Retirement Game.
Chapter Five: Who Are You and What Are Your Goals?
Chapter Six: Your Perfect Portfolio.
Chapter Seven: Why Size Really Does Matter.
Chapter Eight: Value: Owning What Others Don't Want.
Chapter Nine: Putting the World to Work for You.
Chapter Ten: Controlling Risks.
Chapter Eleven: Meet Your Enemies: Expenses and Taxes.
Chapter Twelve: Putting Your Perfect Portfolio to Work.
Part III: The Golden Years.
Chapter Thirteen: Withdrawals: When Your Portfolio Starts Paying You.
Chapter Fourteen: Hiring an Investment Adviser.
Chapter Fifteen: Your Action Plan.
Chapter Sixteen: My 500-Year Plan.
Appendix: Further Resources.
INDEX.