Living Dairy-Free For Dummies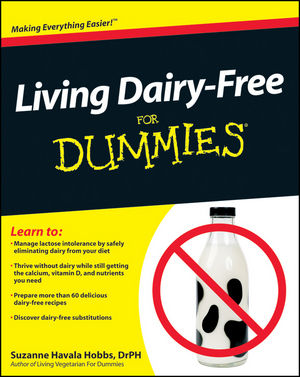 Living Dairy-Free For Dummies
ISBN: 978-0-470-90956-0
Aug 2010
360 pages
Description
Whatever the reason for not eating dairy, Living Dairy-Free For Dummies provides readers with the most up-to-date information on a dairy-free diet and lifestyle and will empower them to thrive without dairy while still getting the calcium, vitamin D and nutritional benefits commonly associated with dairy products.

Living Dairy-Free For Dummies:
Is a lifestyle manual, going beyond just recipes to present a full nutritional evaluation of what dairy-free life is like
Contains more than 50 dairy-free recipes, along with how to set up a dairy-free kitchen and tips for eating out and remaining dairy-free
Presents alternatives to dairy so readers can continue getting the nutritional value and tastes of dairy, without the side effects
Introduction.
Part I: Going Dairy-Free: A Quick Overview.
Chapter 1: Living Dairy-Free: Beginning with the Basics.
Chapter 2: Understanding Why Living Dairy-Free Makes Sense.
Chapter 3: Dairy-Free by Degree: Taking a Look at Lactose Intolerance.
Chapter 4: Getting Calcium, Vitamin D, and Other Essential Nutrients.
Chapter 5: Making the Transition to Dairy-Free: Getting Started.
Part II: Setting Up Your Dairy-Free Kitchen.
Chapter 6: Removing Dairy from Your Kitchen.
Chapter 7: Shopping for and Stocking Your Dairy-Free Home.
Chapter 8: Cooking Tips and Techniques.
Part III: Meals Made Easy: Recipes for Everyone.
Chapter 9: Waking Up to Breakfast Basics.
Chapter 10: Spectacular Soups, Salads, and Sides.
Chapter 11: Delectable Main Dishes.
Chapter 12: Dairy-Free Dips, Spreads, Sauces, and Dressings.
Chapter 13: Breads, Pizza, and Munchies.
Chapter 14: Dishing Up Dairy-Free Desserts.
Part IV: Living — and Loving — the Dairy-Free Lifestyle.
Chapter 15: Managing Social Situations.
Chapter 16: Dodging Dairy on the Mooove: Eating Out.
Chapter 17: Dairy-Free During Pregnancy and the Early Years.
Chapter 18: Raising Happy, Healthy Dairy-Free Kids and Teens.
Chapter 19: Aging Healthfully: Dairy-Free Diets for Older Adults.
Part V: The Part of Tens.
Chapter 20: Ten Good Reasons to Dump Dairy.
Chapter 21: Ten Useful and Great-Tasting Dairy-Free Products.
Chapter 22: Ten Hidden Sources of Dairy.
Chapter 23: Ten Ways to Make Dairy-Free Eating Easier on Your Wallet.
Chapter 24: Ten Ways to Make Dairy-Free Fun for Kids.
Index.