Living Gluten-Free For Dummies: Pocket Edition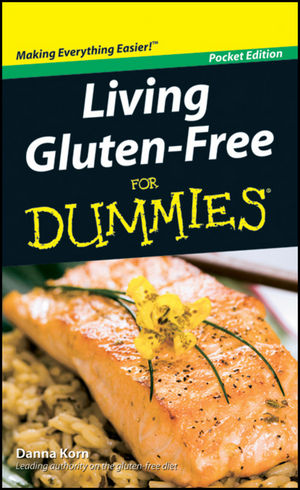 Living Gluten-Free For Dummies: Pocket Edition
ISBN: 978-1-118-04309-7 January 2011 144 Pages
Description
Practical, delicious ways to manage a gluten-free diet.
If you have a wheat allergy, gluten intolerance, celiac disease, or just want to enjoy the benefits of a diet free of wheat, barley, and rye, then this handy pocket guide gets you on the gluten-free path. You'll get a handle on the whos, whats, whys, and hows of going gluten-free as well as trusted advice on how to manage gluten sensitivity. Packed with practical advice ranging from what to eat and what to avoid to how to shop and cook, this book gets you started living — and loving — a gluten-free lifestyle.
Introduction.
About This Book.
Conventions Used in This Book.
Foolish Assumptions.
Icons Used in This Book.
Where to Go from Here.
Chapter 1: Living Gluten-Free, From A to Z.
What Is Gluten, Anyway, and Where Is It?
But I Thought Wheat Was Good for Me!
Discovering the Benefits of a Gluten-Free Lifestyle.
Eating isn't supposed to hurt.
Making nutrition your mission: Head-to-toe health benefits.
Mastering the Meals.
Planning and preparing.
Shopping shrewdly.
Considering your kitchen.
Cooking outside the recipe box.
Getting Excited about the Gluten-Free Lifestyle.
"A" is for adapting your perspective on food.
Savoring gluten-free flavors.
Getting out and about.
Raising kids to love the lifestyle.
Setting realistic expectations.
Arming yourself with good information.
Chapter 2: Who's Going Gluten-Free and Why.
Shedding Light on the Gluten-Sensitivity Spectrum.
At one end: Allergies.
Somewhere in the middle: Gluten sensitivity and intolerance.
Crossing the line: Celiac disease.
Autism and behavioral disorders.
Identifying Symptoms of Gluten Sensitivity and Celiac Disease.
Getting a grip on gastrointestinal symptoms.
Identifying nongastrointestinal symptoms.
Spotting symptoms in kids.
Discovering misdiagnoses and the missed diagnoses.
Getting Tested for Gluten Sensitivity and Celiac Disease.
Surveying the different testing protocols.
Interpreting your test results.
Figuring out what to do if you test positive.
Considering the Risks If You Don't Give Up Gluten.
Looking at associated conditions.
Living with compromised health.
Healing Begins on Day One.
Chapter 3: Grasping the Diet's Ground Rules.
When in Doubt, Leave It Out.
Defining Gluten So You Can Avoid It.
Recognizing Gluten-Free Foods at a Glance.
Forbidden grains.
Grains and starches you can safely eat.
Other foods that are usually gluten-free.
Foods that usually contain gluten.
Exploring Alternative Grains.
Amaranth.
Arrowroot.
Buckwheat (soba).
Mesquite (pinole).
Millet.
Montina (Indian ricegrass).
Quinoa (hie).
Sorghum (milo, jowar, jowari, cholam).
Teff (tef).
Checking Up on Questionable Ingredients.
Knowing which foods to research.
Putting an end to the controversy
over certain foods.
The Buzz on Booze: Choosing Alcoholic Beverages.
Making Sure Your Medications and Supplements Are Safe.
Using Nonfood Products: What You Need to Know.
Chapter 4: Shopping Is Easier Than You Think.
Knowing What You Want.
Planning your meals.
Making lists.
Deciding What to Buy.
Checking out gluten-free specialty products.
Remembering naturally gluten-free foods.
Asking for opinions.
Deciding Where to Shop.
"Regular" grocery stores.
Natural foods stores.
Farmers' markets.
Ethnic markets.
Gluten-free retail stores.
Web sites and catalogs.
Navigating the Aisles.
Living Gluten-Free — Affordably.
Scaling back on specialties.
Saving on shipping.
Going generic.
Eating nutritiously.
Eating in.
Using gluten-free mixes.
Chapter 5: Cooking Tips and Techniques.
Creatively Gluten-Free: Improvising in the Kitchen.
Adapting any dish to be gluten-free.
Avoiding cross-contamination when cooking.
Using standby substitutions.
Cooking with Wheat Alternatives.
Incorporating alternative gluten-free grains.
Thickening with gluten-free starches and flours.
Trying Your Hand at Gluten-Free Baking.
Mixing it up with mixes.
Introducing xanthan gum, the star of the dough.
Substituting gluten-free flours.
Making your own gluten-free flour mixtures.
Baking bread the gluten-free way.
Chapter 6: Eating Away from Home.
The Golden Rules of Going Out Gluten-Free.
Dining Out: Restaurant Realities and Rewards.
Choosing a restaurant.
Calling ahead.
Making smart menu choices.
Talking with the staff: Ask and ye shall receive.
Having restaurants cook the food you bring.
Remembering the art of healthy tipping.
The Incredible, Edible Journey: It's Travel Time!
Researching your destination.
Choosing gluten-free-friendly accommodations.
Packing your own provisions.
Getting there.
Chapter 7: Ten Delectable Gluten-Free Dishes.
Versatile Blueberry Muffins.
Party Mix.
Rice Salad with Red Peppers, Garbanzo Beans, and Feta.
Spicy Chicken Curry.
Baked Lemon Mahi Mahi.
Black Bean Veggie Burgers.
Basic Pizza Crust.
Three-Bean Pasta.
Crustless Cherry Cheesecake.
Easy Peanut Butter Cookies.