Living Longer For Dummies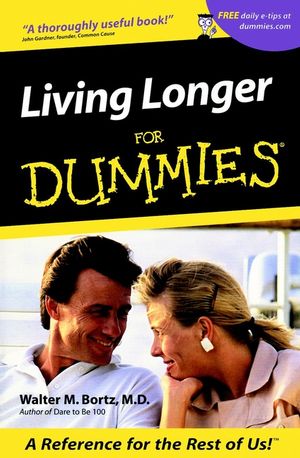 Living Longer For Dummies
ISBN: 978-1-118-06950-9 May 2011 214 Pages
Download Product Flyer
Download Product Flyer
Download Product Flyer is to download PDF in new tab. This is a dummy description. Download Product Flyer is to download PDF in new tab. This is a dummy description. Download Product Flyer is to download PDF in new tab. This is a dummy description. Download Product Flyer is to download PDF in new tab. This is a dummy description.
Description
What's the average human life span...72 years...78 years? Actually, science has determined that humans were designed to live 120 years, and that, until now, most people died too soon. It's also now clear that most of the maladies we commonly associate with aging, such as frailty, senility, and arthritis aren't part of nature's plan, but the result of other factors such as bad nutrition, disease ,and disuse. Best of all is the news that, no matter how old you are or what shape you're in, you can take steps to reverse the aging process that has already occurred in you and to slow your rate of aging in the future.
You're never too old–or too young–to begin living a longer, healthier life, and Living Longer For Dummies can show you how. Written by a leading national expert on aging, it's packed with life-changing tips on nutrition, exercise, attitude and behavior, that can help enhance and sustain your physical and psychological well- being to age 100 and beyond. You'll discover how to:
Slow your rate of aging
Reverse many of the effects of aging
Avoid maladies associated with age
Keep your mind and senses sharp
Maintain limberness and muscle tone
Keep your energy level high
Rebound from illness
Stay sexually active
Dr. Bortz shatters common myths about aging and explains, in plain English, what science now knows about the normal aging process in humans. And he explores a wide range of life-prolonging topics, including:
Getting good health care
Exercising to stay healthy for life
Eating right for a long life
Getting adequate rest and relaxation
Using alternative medicine and exercise techniques
Maintaining brain-power
Having sex to prolong your life and coping with sexual difficulties
Handling health crises
The number of people age 100 and older increases a whopping 8 percent every year in the United States? If you choose to, you can become one of them someday. Let Living Longer For Dummies show you how.
Table of contents
Introduction.

PART I: The Mental and Physical Aspects of Living Longer.

Chapter 1: What in the World Is Aging Anyway?

Chapter 2: Getting Good Healthcare.

Chapter 3: Exercising to Keep Your Health for Life.

Chapter 4: Fueling Your Future with Good Food!

Chapter 5: Getting Your R&R.

Chapter 6: Using Alternative Medicine and Exercise Techniques.

PART II: The Psychological Aspects of Living Longer.

Chapter 7: Maintaining Your Brain Power and Engaging in Life "Sense-ibly".

Chapter 8: Living to Work or Working to Live?

Chapter 9: Sex Matters.

Chapter 10: Building Your Last Nest.

PART III: Handling a Health Crisis.

Chapter 11: Understanding Your Role in an Emergency Situation.

Chapter 12: Making the Hospital Work for You.

Chapter 13: Surgery and the Older Patient.

PART IV: The Part of Tens.

Chapter 14: Ten Keys to a Long, Healthy Life.

Chapter 15: Ten Reasons to Get Moving.

Chapter 16: Ten Best Anti-Aging Diet Tips.

Chapter 17: Ten Ways to Use, Not Lose, Your Mind.

Chapter 18: Ten Guidelines for Taking Medications Safely.

PART V: Appendixes.

Appendix A: A Guide to Medicines.

Appendix B: Common Conditions and Treatments.

Index.

Book Registration Information.