Living for the Weekday: What Every Employee and Boss Needs to Know about Enjoying Work and Life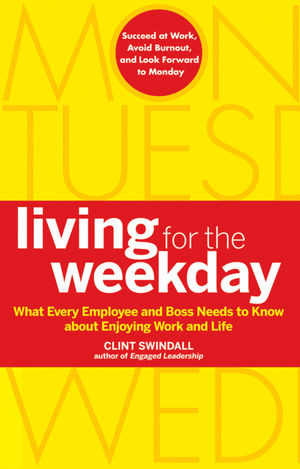 Living for the Weekday: What Every Employee and Boss Needs to Know about Enjoying Work and Life
ISBN: 978-0-470-64088-3 April 2010 224 Pages
Description
Praise for Living for the Weekday
""If you want to have a team where leaders and employees are working hand-in-hand to build a culture of employee engagement, then you need to read this book. I'm confident it will help you become a weekday warrior."" —Jon Gordon bestselling author of The Energy Bus and Soup
""In Living for the Weekday, Clint Swindall has rounded out a powerful message. Each individual has a personal responsibility, a singular opportunity to be highly engaged as an employee and, more importantly, highly productive and happy in all aspects of life.""—Barry Malcolm, Managing Director, Scotiabank Bahamas Ltd.
""If you want to unlock your potential and the potential of those around you, Living for the Weekday is a must read."" —Mike Crownover, Senior Vice President, Human Resources, Valero Energy Corporation
""Employee engagement is a two-way street with both employers and employees responsible for creating a positive and productive work environment... Living for the Weekday presents employees with a practical and powerful approach to taking control of their own happiness.""—Roger C. Ahlfeld Senior Vice President, Human Resources and Training, Uno Chicago Grill
""Clint Swindall lays out a clear plan that anyone can apply to become more engaged in their work and in their lives."" —Dennis Snow, author of Unleashing Excellence
Introduction.
The Fable.
The Application of Living for the Weekday.
CAREER.
Challenge One: Address the hard questions about your career.
Challenge Two: Focus on your own personal growth.
RELATIONSHIPS.
Challenge Three: Surround yourself with the right people.
Challenge Four: Enhance work relationships.
HEALTH.
Challenge Five: Focus on your physical health.
Challenge Six: Focus on your emotional health.
FINANCES.
Challenge Seven: Tie financials to your bigger goals.
Challenge Eight: Add more value to your employer.
SPIRITUALITY.
Challenge Nine: Figure out your bigger purpose.
Challenge Ten: Commit to a cause greater than yourself.
CONCLUSION.
Acknowledgments.
About the Author.