Living with Paradox: Religious Leadership and the Genius of Double Vision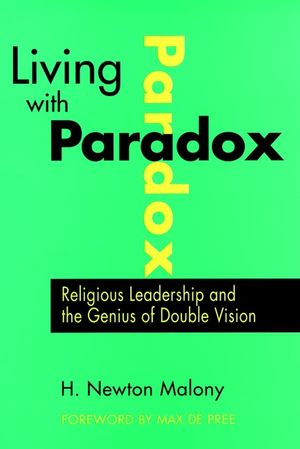 Living with Paradox: Religious Leadership and the Genius of Double Vision
ISBN: 978-0-787-94057-7
May 1998, Jossey-Bass
144 pages
Description
Individuals who are in religious leadership positions will immediately recognize the dilemmas or paradoxes described in this book. The good news is that Malony offers sound practical advice on how to deal with them. This book is accurately descriptive and helpfully prescriptive.
--Douglas Lewis, Wesley Theological Seminary

Malony suggests ways to turn destructive conflict into creative tension. A helpful guide for every religious leader struggling to make sense out of the colliding interests that buffet many congregations and other not-for-profit institutions.
--William E. Hull, Samford University

As a leader you must also challenge individuals to make uncomfortable choices in the service of doing God's work in the world.

Maloney identifies eight central paradoxes that all religious leaders--both lay and ordained--must confront. The author shows how these paradoxes, when viewed as either/or choices or struggled against, can whipsaw the leader, tearing the ministry apart. However, embracing paradox and accepting it as a gift allows religious leaders to deal successfully with conflict in their roles, and in so doing, break through to a more powerful connection with those to whom they minister.

H. Newton Malony is senior professor of psychology at Fuller Theological Seminary, a licensed psychologist, and an ordained United Methodist minister.
Foreword by Max de Pree.

The Persistent Paradox of Religious Leadership.

PARADOXES IN THE LEADER'S ROLE.

Person and Position: Being True to Oneself and to Congregational Expectations.

Prophet, Priest, and King: Playing Three Roles at Once Without Confounding Them.

PARADOXES OF PERSPECTIVE.

Inclusivity and Exclusivity: Appreciating Both Uniqueness and Universality in Faith Convictions.

Timely and Timeless: Applying the Bible's Eternal Truths to Present Circumstances.

PARADOXES BUILT.

For-Profit and Not-for-Profit: Balancing the Books While Serving a Larger Purpose.

Person and Organization: Running an Efficient Organization in Which People Feel Deeply Recognized.

PARADOXES OF CONGREGATIONAL MISSION.

Product and Process: Valuing Ends and Means Equally.

Mission and Maintenance: Moving the Congregation Toward Achieving Its Goals While Fostering Goodwill and Group Cohesion.

Conclusion: Leading Others to Double Vision.
"Individuals who are in religious leadership positions will immediately recognize the dilemmas or paradoxes described in this book. The good news is that Malony offers sound practical advice on how to deal with them. This book is accurately descriptive and helpfully prescriptive." (Douglas Lewis, Wesley Theological Seminary)

"Malony suggests ways to turn destructive conflict into creative tension. A helpful guide for every religious leader struggling to make sense out of the colliding interests that buffet many congregations and other not-for-profit institutions." (William E. Hull, Samford University)

"Dr. Malony presents a helpful analysis using insights from psychology, theology, management theory, conflict resolution, practical experience, love of Church, and an ironic spirit. Anyone reading this study will no longer see conflict as an interruption of the Church mission, but an opportunity to be in ministry." (Mark Trotter, First United Methodist Church, San Diego, California)