Lloyd George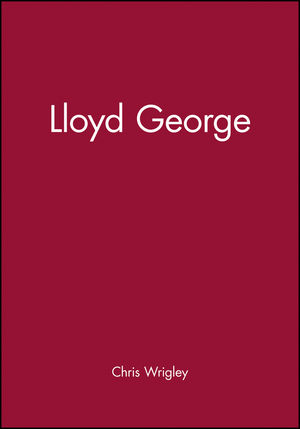 Lloyd George
ISBN: 978-0-631-16608-5
Nov 1992, Wiley-Blackwell
180 pages
Description
Professor Wrigley assesses the main features of Lloyd George's career from his early days as a fiery Welsh radical through the pre-First World War Liberal social reforms to his premiership (1916-1922) and after. He concludes with an assessment of the place of Lloyd George in British political history and a survey of the biographical material available.
Acknowledgements.
1. Introduction.
2. The Welsh Nonconformist Politician.
3. From Old Style Radical to New Liberal.
4. From 'Pro-Boer' to 'The Man Who Won the War'.
5. A Fit World and a Fit Land to Live in?.
6. Lloyd George and the Liberal Party.
7. The Welsh Wizard.
Bibliography.
Index.
"Comes as near as anything can to consensus estimate of uniquely contentious subject."
"But for the compactness founded upon wide research, it is admirable." Literary Review
"Carrying already an enviable reputation as the leading authority on Lloyd George's complex relationship with the British labour movement, Professor Wrigley now moves throught the whole span of his subject's career, from the era of Gladstonian Liberalism to the crises of the Second World War, with assuredness and insight. A thorough command of the existing secondary literature is complemented by the skilled use of illustrative material from primary sources."
"A great strength of this slim volume is its accessibility, it can be read with profit by the under-graduate audience for whom it is designed." History
"This book is a comprehensive biographical essay which surveys all aspects of Lloyd George's career. An historical introduction is followed by five chapters which successfully combine thematic and chronological approaches to the statesman's life."
"This is a reliable, balanced and well-written book, giving a good overview of recent research."
"An excellent introductin for students." David Powell
* Author is a leading expert on Lloyd George.
* Draws on both secondary literature and the vast archival material available.