Loan Modification For Dummies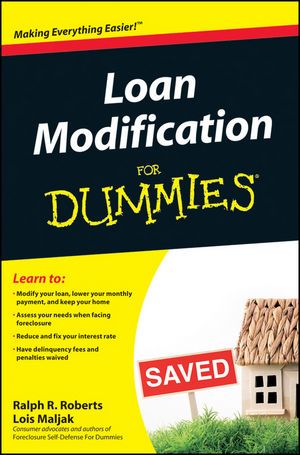 Loan Modification For Dummies
ISBN: 978-0-470-50199-3
Aug 2009
288 pages
Product not available for purchase
Description
The crucial information you need to secure a reliable loan modification and save your home
Behind on your mortgage payments? Worried about losing your home? Don't panic. Loan Modification For Dummies gives you the reliable, authoritative, easy-to-understand guidance you need to apply for and secure a loan modification that lowers your monthly house payment and keeps you in your home.
This practical, plain-English guide leads you step by step through the loan modification process, from contacting your lender to applying for a loan modification, evaluating the lender's initial offer, and negotiating a modification that lowers your monthly payment while helping you catch up on any past-due amounts. You'll learn how to communicate with your bank or loan servicer, recognize and avoid loan-modification scams, and find a knowledgeable loan modification specialist, if you choose not to do it yourself.
Advice on determining whether you're likely to qualify for your lender's loan modification program
Guidance on preparing and submitting a loan modification application that improves your chances of success
Helps you figure out a monthly payment you really can afford
Tips on modifying your loan even when you owe more than your home's current market value
Negotiation advice for securing the best possible terms and lowest monthly payment
Resources for contacting your lender, obtaining free or affordable third-party assistance, and getting government agencies on your side
Read Loan Modification For Dummies and start saving your home today.
Introduction.
Part I: Getting Up to Speed on Loan Modification.
Chapter 1: Keeping Your Home by Modifying Your Loan.
Chapter 2: Taking Stock of Your Situation.
Chapter 3: Evaluating Your Options.
Chapter 4: Deciding Whether to Team Up with a Pro or Fly Solo.
Part II: Kick-Starting the Process: Applying for a Loan Modification.
Chapter 5: First Things First: Contacting Your Lender.
Chapter 6: Gathering Facts, Figures, and Documentation.
Chapter 7: Knowing What to Ask For.
Chapter 8: Preparing and Submitting Your Application.
Chapter 9: Keeping the Process on Track and on Time.
Part III: Hammering Out the Details with Your Lender.
Chapter 10: Discussing Loan Modification Scenarios with Your Lender.
Chapter 11: Evaluating Your Lender's Initial Offer.
Chapter 12: Negotiating a Better Deal.
Part IV: Dealing with an Uncooperative Lender.
Chapter 13: Brushing Up on Your Legal Rights.
Chapter 14: Auditing Your Mortgage Loan.
Chapter 15: Applying Some Legal Pressure.
Part V: The Part of Tens.
Chapter 16: Ten Tips for Long-Term Success.
Chapter 17: Ten Common Loan Modification Myths.
Part VI: Appendixes.
Appendix A: Resources.
Appendix B: Glossary.
Index.