Local Anaesthesia in Dentistry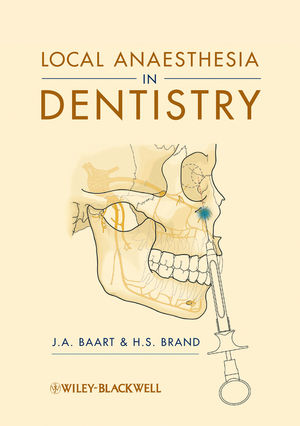 Local Anaesthesia in Dentistry
ISBN: 978-1-118-69352-0
May 2013, Wiley-Blackwell
192 pages
Description
Local Anaesthesia in Dentistry is a practical guide for both students and general practitioners to this essential area of clinical practice.


Highly illustrated in full colour throughout, the book provides clear and practical guidance to the administration of local anaesthesia. The book introduces the reader to the concept of nerve conduction and pain as well as providing an explanation of the anatomy of the trigeminal nerve. Further chapters cover such key areas of practice as regional anaesthesia, local anaesthesia in children, pharmacology, local and systemic complications, general practical aspects, the prevention of side effects and legal aspects.
1. Nerve conduction and pain.
2. Anatomy of the trigeminal nerve.
3. Pharmacology of local anaesthetics.
4. General practical aspects.
5. Regional anaesthesia in the upper jaw.
6. Regional anaesthesia in the lower jaw.
7. Supplemental techniques of regional anaesthesia.
8. Local anaesthesia in children.
9. Local complications.
10 Systemic complications.
11 Patients at risk.
12 Legal aspects
"Overall, this book provides a comprehensive reference for all aspects of local anesthesia in dentistry. It is extremely well laid out and easy to read; the main text is presented in a logical manner with important points highlighted in boxes. The numerous illustrations and diagrams should make this book an attractive option for all clinicians looking to improve their knowledge and techniques in this essential area of clinical dentistry." (British Dental Journal, 26 November 2010)


Illustrated in full colour throughout

Reflects European practice and legislation

Provides guidance on clinical techniques for administering local anaesthesia

Covers all relevant pharmacological information, including side-effects, complications, and drug interactions

Clear, succinct and easy-to-follow guide to a complex and important area of clinical dental practice