Local Area Networks: A Business-Oriented Approach, 2nd Edition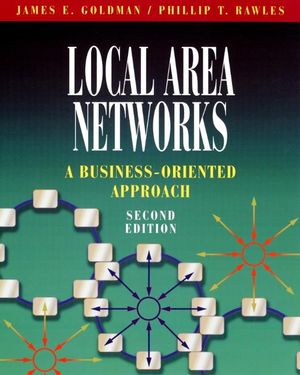 Local Area Networks: A Business-Oriented Approach, 2nd Edition
ISBN: 978-0-471-33047-9
Feb 2000
928 pages
Description
Local Area Networks, Second Edition is a comprehensive introduction to Local Area Networks including theory, concepts, and installation. This edition includes significant updating due to the constantly changing LAN technologies. Courses on LAN's and the technology of client/server are the primary audience for this text.
Buy Both and Save 25%!
Original Price:$417.90
Purchased together:$313.42
save $104.48
Cannot be combined with any other offers.
LOCAL AREA NETWORK INFRASTRUCTURE.

Local Area Networks: A Business Perspective.

Local Area Network Architectures.

Local Area Network Hardware.

Network Layer Communications Protocols.

LOCAL AREA NETWORK SOFTWARE.

Local Area Network Operating Systems.

Novell Netware.

Windows NT (2000).

Unix.

Middleware.

Client/Server Application Development and Integration.

Local Area Network Applications Software.

LOCAL AREA NETWORK CONNECTIVITY.

Network Design Using TCP/IP.

Local Area Network Interworking.

Remote Access and Wireless Networking.

LOCAL AREA NETWORK ADMINISTRATION.

Local Area Network Management.

Local Area Network Security.

Glossary.

Index.
A business-oriented approach to local area networks. Chapter 1 shows how and why LAN's are implemented and the challenges and solutions to effective LAN Analysis, Design, and Implementation.
Authors have excellent teaching and practical experience.
The Goldman books (ADC; Client/Server; and LAN, 2e) are updated regularly and reflect the latest technology.
Chapter 1

Updated all figures
Added text to productivity paradox discussion
Added text to business process re-engineering discussion
Added paragraph on strategic role of LANs
Added paragraph on key business driven characteristics of LANs
Removed sections on alternatives to LANs, file transfer software, Non-Lan PC connectivity

Chapter 2

Add section on gigabit ethernet
Add section on full duplex net architectures
Add small intro to LAN based ATM
Add small section on High speed token ring

Chapter 3

Added section on CAT 5 Level 5, 6, 7
Updated ATM info
Added section on NIC configuration: IRB, Base I/A Address, Base Memory Address
Added chart on typical IRQ Assignments
Added section on LAN character and line encoding schemes

Chapter 4: Local Area Network Protocols

Entirely new chapter
Concepts introduced
Interaction between local area network architectures and protocols
Address resolution
Network layer addressing
Introduction to routing
IPX/SPX
TCP/IP
IPv6
AppleTalk
Remote Access Protocols

Chapter 5: Local Area Network Operating Systems

Totally redesigned chapter to serve as a template for chapters 6-8
Added coverage of directory services
Added coverage of authentication and authorization
Updated technology references to current NOSes

Chapter 6: Novell NetWare

Totally redesigned chapter to adhere to template created by chapter 5
De-emphasized NetWare 3.x
Expanded information on NetWare 4.x
v
Added major section on NetWare 5.x
Added coverage of NetWare administration
Expanded coverage of NetWare remote access
Expanded coverage of NetWare/NT and NetWare/UNIX integration

Chapter 7: Windows NT/2000

Totally redesigned chapter to adhere to template created by chapter 5
Expanded information on NT 4.0
Added major section on Windows 2000
Added coverage of Windows administration
Expanded coverage of Windows administration
Added coverage of Windows system enterprise management and software distribution
Expanded coverage of Windows remote access
Expanded coverage of Windows/UNIX integration

Chapter 8: UNIX

Totally redesigned chapter to adhere to template created by chapter 5
Added typology of UNIX systems
Added significant coverage of Linux systems
Added coverage of software that allows UNIX to appear as a PC based NOS
Expanded coverage on NFS
Expanded coverage of daemons and services

Chapter 9: Middleware

New Chapter to this book
Concepts introduced
Middleware
SQL
Remote Procedure Calls
Messaging Middleware
Screen scrapers
CORBA
DCOM

Chapter 10: Network Application Development and Deployment

New Chapter to this book
Concepts introduced
Application development
Procedural development languages
Event driven development environments
Object-oriented development environments

Chapter 11: Local Area Network Applications

Chapter totally redesigned to better align with expanded coverage of this topic in CSIS
Expanded coverage of e-mail systems
Particular emphasis added on e-mail integration
Expanded coverage of workflow systems
Expanded coverage of conferencing and electronic meeting systems
Substantially updated LAN resource management section to include materials introduced in chapters 6–8

Chapter 12: Network Design Using TCP/IP

Entirely new chapter
Concepts introduced
Classless Addressing
Reserved Subnets
Extended Network Prefixes
Route Summarization
Static Routing
Variable Length Subnet Masks
Classless Interdomain Routing
Network Address Translation
IP Unnumbered
Longest Match Lookups
Dynamic Routing

Chapter 13: Internetworking

Updated section on SNA/LAN integration
Included coverage of RFC 1490 protocol encapsulation over frame relay
Added coverage of IBM's Network Utility SNA to TCP/IP translator
Added section on Layer 3 and Layer 4 switching
Covered router to router protocols in more depth including
v
IGRP
EGP
BGP
Expanded coverage of Virtual Networks
Added coverage of quality of service standards
MPLS protocol
DiffServ protocol

Chapter 14: Remote Access and Wireless Networking

Updated section on Wireless LANs
Added section on Enterprise remote access servers

Chapter 15: Local Area Network Management

Added section on bandwidth management
Added coverage of class of service/quality of service protocols
Added coverage of application monitoring & management
Added coverage of network optimization
Added coverage of bandwidth vs latency as application performance determinants

Chapter 16: Local Area Network Security

Added coverage on Enterprise firewall architectures - new diagram
Added section on cryptographic accelerators
Added section on security architecture development methodology