Local Online Advertising For Dummies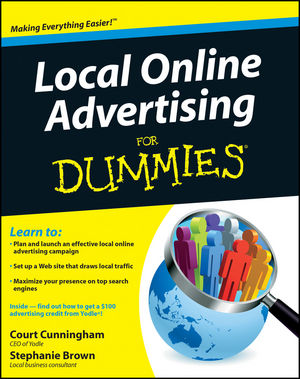 Local Online Advertising For Dummies
ISBN: 978-0-470-49742-5
Mar 2010
384 pages
Description
Kick your local online advertising into high gear with this friendly, timely guide!
Add the newest means of advertising your business into your marketing mix by developing an online advertising strategy. This get-down-to-business guide will show you how. Written by executives from Yodle, a New York-based firm specializing in online advertising, this book reveals the best and brightest ways to get the word out, from creating a Web presence that draws visitors, to using SEO, to jumping boldly into social media advertising.
Online advertising market is estimated to grow to $10-$19 billion by 2011, and you'll want your business to be part of this huge shift
Explores how to research your audience, set goals, and build a plan
Provides steps and tips on creating an effective Web presence and landing pages-then covers how to drive visitors to your site with search engine optimization, AdWords, e-mail blasts, and social media marketing
Examines blogs, chat rooms, video, and other ways to win customers
Don't miss the free offer from Yodle that comes with this practical guide!
Introduction.
Part I: Getting Started with Local Online Advertising.
Chapter 1: Online: It's Where Your Customers Are.
Chapter 2: Engaging Your Advertising Arsenal.
Chapter 3: Planning Your Online Advertising Campaign.
Part II: Setting the Foundation for Local Online Advertising Success.
Chapter 4: Building a Great Web Site: The Key to Online Advertising Success.
Chapter 5: When You've Hooked Your Customers, Reel 'Em In!
Chapter 6: Analyzing Results for Long-Term Gains.
Part III: Doing the Advertising Part of Local Online Advertising.
Chapter 7: Demystifying Search Engine Marketing.
Chapter 8: Getting Web Traffi c for Free: Practicing Search Engine Optimization.
Chapter 9: The Nuts and Bolts of Search Engine Advertising.
Chapter 10: Saying It with E-Mail.
Chapter 11: Linking Up with Directories and Lead Aggregators.
Chapter 12: Targeting Customers with Banner Ads, E-Newsletter Ads, and More.
Chapter 13: Hanging Out on Social Networks.
Chapter 14: Generating PR Buzz.
Chapter 15: Using Offl ine Channels to Drive Online Traffic.
Part IV: Keeping Your Customers Coming Back.
Chapter 16: Staying at the Top of Customers' Minds.
Chapter 17: Leveraging Customer Data: Reach Out and Touch 'Em.
Part V: The Part of Tens.
Chapter 18: Ten Local Online Marketing Mistakes (And How to Avoid Them).
Chapter 19: Ten Steps to an Effective Local Online Advertising Plan.
Chapter 20: Ten Considerations When Choosing a Local Online Advertising Partner.
Index.