Logical Form: From GB to Minimalism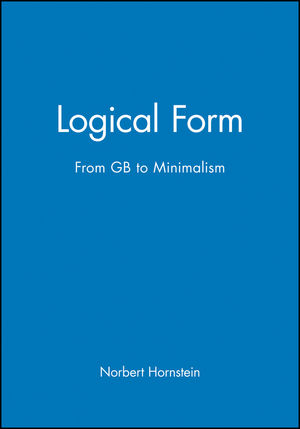 Logical Form: From GB to Minimalism
ISBN: 978-0-631-18942-8 October 1995 Wiley-Blackwell 280 Pages
Description
This book critically reviews grammatical research into logical form over the past 20 years and reconsiders some of its major themes in the light of recent theoretical innovations.
In the late 1970s generative grammarians proposed the existence of an abstract syntactic level of grammatical representation derived from surface structure which was phonetically invisible. This level, dubbed logical form, has been thought of as the information that the grammar contributes to semantic interpretation.

The first part of the book reviews the standard arguments for the existence of LF and its format.
Table of contents
Acknowledgments.
List of Abbreviations.
1. An Introduction.
2. Motivating LF.
3. More on LF.
4. Some Minimalist Background.
5. Antecedent Contained Deletion.
6. Linking, Binding and Weak Cross Over.
7. Superiority Effects.
8. Quantifier Scope.
9. Revisiting the Minimalist Program.
Notes.
Bibliography.
Index.
Features
* Critical review of major topic in generative grammar by leading researcher.
* An important contribution to the Minimalist Program, the most significant current development in linguistics.