Logos and No Gos: How to Understand and Get the Most from Your Brand IP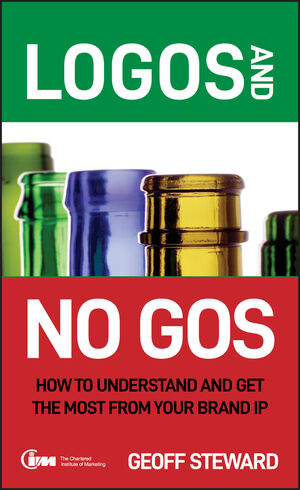 Logos and No Gos: How to Understand and Get the Most from Your Brand IP
ISBN: 978-0-470-06198-5 January 2007 240 Pages
Description
""Logos and No Gos ought to be mandatory reference material for all managers of branded products and services. It is a concise, easy read, jammed with crucial information on how to survive and thrive in the I.P. Jungle. It shows how to add brand value and how to guard that value with your life. When Kangol moved out of manufacturing and distribution into brand licensing it took us a while to realise that brand value lies as much in the quality and protection of the I.P. portfolio as it does in the image and trading performance. With Logos and No Gos on your desk there can be no excuse for sloppy I.P. management.""
—David M. Heys, C.E.O., Kangol Holdings Ltd

""Geoff Steward is a highly experienced practitioner in the field of Intellectual Property and Trade Marks in particular. Logos and No Gos embodies his wide experience and is a very readable guide to what is otherwise a tortuous and, often, near impenetrable legal mine-field for the unwary brand owner and brand developer. Anyone thinking of launching any form of new business or product should read Geoff's book from cover to cover. Thus forewarned they should be able to avoid the worst pitfalls and, more importantly, be in a position to develop a valuable business asset.""
—Mark Platts-Mills QC, Barrister practicing in trade marks at 8 New Square, Lincoln's Inn

Intellectual property is one of the most valuable assets of all brand owners, and separates them from their competition in local, national and global markets. Damage to brands can have a deadly impact on a company's bottom line. Despite this, few brand owners really understand how to identify, get maximum value from and properly protect their IP rights.

Covering all aspects of rights protection in business—including copyright, designs trade marks, database right and domain names—Logos and No Gos is your complete guide for negotiating the minefield of IP in business. With the help of expert Geoff Steward, you will learn how to design and implement a strategy to fully protect your brand rights—and avoid inadvertently infringing those of others.

Logos and No Gos is a plain English guide to identifying and managing the IP in brands. It's all you need to understand and make the most of:
Trade marks
Copyright
Database rights
Designs
Domain names
Employment contracts
Contractors
Licensing
Assignments
Franchising
Preface.
About the author.
1 CREATING AND IDENTIFYING YOUR IP.
Trade marks.
What can you register as a trade mark?
What can't you register as a trade mark?
Always conduct pre-emptive searches.
Unregistered trade marks.
Use of the ® and TM symbols.
Copyright.
What is copyright all about?
What attracts copyright protection?
What does not attract copyright protection?
Protecting your ideas.
Make sure that you own the copyright.
Period of copyright protection.
Moral rights.
Database right.
What is database right?
What protection does database right give you?
In what respect do you need to bother with database right for the purposes of your brand strategy?
Designs.
UK registered designs.
UK unregistered designs.
European Community designs (registered and unregistered).
Overlap between trade marks and designs.
Benefi ts of registering device marks/logos as designs.
2 REGISTERING YOUR IP.
Trade marks.
The Nice classifi cation system.
UK registrations.
Community registrations.
International registrations.
The standard Nice classifi cation of goods and services for trade mark registrations (from January 2007).
Copyright.
No UK registration system.
The international protection available for copyright works.
Use the © symbol.
Designs.
UK registration procedure.
Community registration procedure.
3 HOUSEKEEPING YOUR TRADE MARK PORTFOLIO.
Housekeeping tips for preserving and protecting your trade mark portfolio.
Register your trade marks in the name of the same proprietor.
Be consistent when using your trade marks.
Do not allow your trade marks to become generic.
Conduct regular trade mark audits.
Certificates.
Keep accurate and accessible records.
Renewal dates.
4 IP AND YOUR EMPLOYEES.
IP and employees.
What to include in your employment contracts and why.
Confi dentiality clauses.
Moral rights and waiver.
Commissioned works/Contractors.
Communicating to all employees the importance of IP.
Chain of command.
5 EXPLOITATION OF YOUR IP.
Exploitation of your IP.
What is the difference between a licence and an assignment?
Exclusive/Non-exclusive.
Registration implications.
Registrations by rogue licensees.
Standard protective licensing provisions.
Franchising.
Mortgaging/Selling off unused IP.
6 POLICING YOUR IP.
Policing your IP.
Why is it important to monitor your IP for potential third party infringements?
How can you fi nd out if somebody is infringing your intellectual property rights?
Which governmental or public agencies can help you?
How can private service providers help you monitor your intellectual property for infringements?
7 HOW ARE YOUR IP RIGHTS INFRINGED?
Registered trade marks.
Advantages of registering.
Acts of civil infringement.
Criminal trade mark offences.
The grey market goods problem.
Copyright.
Acts of civil infringement.
Defences to civil copyright infringement.
Criminal copyright offences.
Designs.
UK registered designs.
UK unregistered designs.
Compulsory licensing of your unregistered design.
Community designs (registered and unregistered).
Criminal offences.
8 ENFORCING YOUR IP AND THE REMEDIES AVAILABLE TO YOU.
How to react to an infringement of your rights.
Do you have a clear reporting procedure and chain of command?
The need for speed.
The importance of a confusion log.
Cease and desist letters.
A word of warning about making unjustifi ed threats.
Website infringements and service providers.
What next?
Remedies.
Injunctions.
Delivery up, recall, seizure and destruction.
Damages/Account of profi ts.
Disclosure of the identity and whereabouts of other wrongdoers and information on infringing products.
Publication of judicial decisions.
9 HOW TO AVOID INFRINGING OTHER PEOPLE'S IP.
How to avoid infringing other people's IP.
10 REGISTERING AND PROTECTING YOUR DOMAIN NAMES.
Domain names.
What is a domain name?
What is the value of a domain name?
Registering a domain name?
Problems with the registration system.
Disputes.
Trade mark infringement/passing off.
Alternative dispute resolution.
11 THE TAKE-HOME MESSAGE.
The dos and don'ts of brand strategy.
Trade mark registrations.
Trade mark portfolios.
Trade mark infringements.
Design registrations.
Copyright.
Database right.
Domain names.
Index.
 â??The book provides a good overview for non-specialists of the practical issues involved in creating and maintaining a brand.â?? (
Practical Law For Companies Magazine,
March 2007)
 â??...an approachable text which tackles IP from a common sense perspective.â?? (IP review, Spring 2007)

""This superb bookâ?¦provides marketers with invaluable adviceâ?¦it will be a long time before we see a better book on this topic."" (The Marketer: Chartered Institute of Marketing magazine , April 2007)
""Geoff Steward...has created an accessible, readable and comprehensive guide to IP..."" (Management Today, july 2007)