Long-Term Conditions: Nursing Care and Management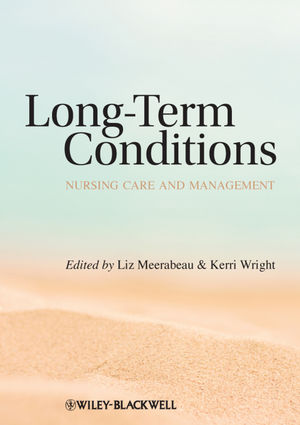 Long-Term Conditions: Nursing Care and Management
ISBN: 978-1-405-18338-3 July 2011 Wiley-Blackwell 304 Pages
Description
This book is a very welcome tool, which will enable health professionals to understand the complexity, challenge and rewards of proactively managing long-term conditions. Putting this knowledge into skilled practice, in partnership with patients, will transform the lives of many individuals and their families, and thus fulfil the fundamental purpose of nursing.
—From the Foreword by Professor Rosemary Cook CBE, Director, the Queen's Nursing Institute and Visiting Professor of Enterprise, University of Northumbria
Long-Term Conditions is a comprehensive, practical guide for nurses and healthcare professionals on the care and management of people with chronic illness. It explores case management, individual care and management, the role of the 'expert patient', quality-of-life issues, counselling skills, self-management, and optimum self-care. Long-Term Conditions discusses the three main long-term conditions currently resulting in most hospital admissions: diabetes, respiratory, and coronary heart disease, with a focus on empowering the patient to self-manage.
Key Features:
A comprehensive guide to the care and management of long-term conditions

Focuses on the management of the conditions from the patients' perspective

Practical and accessible in style
Table of contents
Foreword.
Notes on contributors.
Acknowledgements.
Introduction.
1 Long-term conditions in perspective (Liz Meerabeau).
2 Case management (Kerri Wright).
3 Changing approaches to the management of long-term conditions (Kerri Wright).
4 Sociological insights (Liz Meerabeau).
5 Psychological effects of long-term conditions (Ben Bruneau).
6 Counselling skills (Val Sanders).
7 Living with long-term conditions: Tommy's story (Tommy Magee).
8 Self-management and current health care policies (Kerri Wright).
9 Managing common symptoms of long-term conditions (Kerri Wright, Pia Sweet, Natasha Ascott, Harry Chummun and Jenny Taylor).
10 Medicines management (Shivaun Gammie).
11 Management of heart failure (Susan Simpson).
12 Management of respiratory disease (Liz Nicholls).
13 Management of diabetes (Lynne Jerreat).
Index.
Reviews
"This book will be a particularly useful resource to practice nurses, district nurses, nurse practitioners and specialist nurses."  (Primary Health Care, 1 October 2012)
"This is a good tool for healthcare professionals and patients to use to understand these three common chronic diseases and how to effectively manage them. The book helps practitioners to understand the chronic conditions from the patient's perspective and focus on reducing the physical and psychosocial impacts of these conditions." (Doody's, 10 February 2012)
"This comprehensive text explores key concepts, with clear explanations, diagrams and case studies. I recommend it to newly qualified and experienced nurses, as well as nursing students...This excellent book takes a needs-led approach rather than a disease-focused medical one. It is full of useful information and thought-provoking ideas." (Nursing Standard, 2011)
Features


A comprehensive guide to the care and management of long term conditions


Focuses on the management of the conditions from the patients' perspective


Practical and accessible in style