Looking and Learning: Visual Literacy across the Disciplines: New Directions for Teaching and Learning, Number 141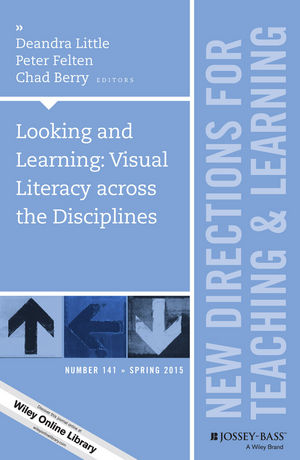 Looking and Learning: Visual Literacy across the Disciplines: New Directions for Teaching and Learning, Number 141
ISBN: 978-1-119-06338-4
Mar 2015, Jossey-Bass
104 pages
Description
In this volume, the authors focus on the importance of inclusive teaching and the role faculty can play in helping students achieve, though not necessarily in the same way. To teach with a focus on inclusion means to believe that every person has the ability to learn. It means that most individuals want to learn, to improve their ability to better understand the world in which they live, and to be able to navigate their pathways of life.
This volume includes the following topics:
best practices for teaching students with social, economic, gender, or ethnic differences
adjustments to the teaching and learning process to focus on inclusion
strategies for teaching that help learners connect what they know with the information presented
environments that maximize learners' academic and social growth.
The premise of inclusive teaching works to demonstrate that all people can and do learn. Educators and administrators can incorporate the techniques of inclusive learning and help learners retain more information.


This is the 141st volume of the quarterly Jossey-Bass higher education series New Directions for Teaching and Learning. It offers a comprehensive range of ideas and techniques for improving college teaching based on the experience of seasoned instructors and the latest findings of educational and psychological researchers.
EDITORS' NOTES 1
Deandra Little, Peter Felten, Chad Berry
1. Teaching Visual Literacy in the Astronomy Classroom 7
Anthony Crider
An astronomy professor describes how he teaches students to read and write images, diagrams, and plots to teach visual literacy skills along with a deeper understanding of how images are used to understand and explain in the field of astronomy.
2. Learning to See the Infinite: Teaching Visual Literacy in a First-Year Seminar Course 19
Michael S. Palmer
This chapter describes an interdisciplinary first-year seminar course designed to develop students' visual literacy skills and includes an overview of the course and a discussion of the efficacy of the instructional interventions, as well as a timeline and description of the specific learning activities used to help students learn to "see the infinite."
3. Sociology through Photography 31
Katherine Hyde
This chapter explores how photography can inspire and cultivate sociological mindfulness through two sets of assignments that highlight the complexity of visual representations of social identity and guide sociological inquiry.
4. Seeing Is the Hardest Thing to See: Using Illusions to Teach Visual Perception 43
Cedar Riener
A cognitive science professor explains how he uses optical illusions to teach visual perception in ways that encourage students to change their perspectives about how vision works, and in the process begin to question their assumptions about how knowledge is constructed in a variety of disciplines.
5. How to Navigate an "Upside-Down" World: Using Images in the History Classroom 53
Steven S. Volk
This chapter explores the challenges and benefits of working with images in a history classroom, including the complexity of helping students use images as historical evidence, ways in which close readings of images can help students develop deep attention, and how work with images can be done in a way that accommodates all students, including those with limited or no sight.
6. Teaching Film and Filmmaking in a Second Language 67
Alison J. Murray Levine
This chapter describes a pedagogical approach that blends theory and practice in upper-level French film classes, and that has objectives, design, and assignments applicable to many contexts in which instructors might want to engage with visual material.
7. Learning—to and from—the Visual Critique Process 77
Phillip Motley
A professor of visual communications examines the ways visual critique can benefit students in art, design, or visual communication fields, as well as those in a range of other courses where interpreting or creating visual images is a crucial part of course content.
8. Teaching Visual Literacy across the Curriculum: Suggestions and Strategies 87
Deandra Little
This final chapter highlights seven general suggestions and strategies as a quick guide to effective practice for faculty (and others) working to develop visual literacy in classrooms and across the curriculum.
INDEX 91