Loopholes of the Rich: How the Rich Legally Make More Money and Pay Less Tax, Revised Edition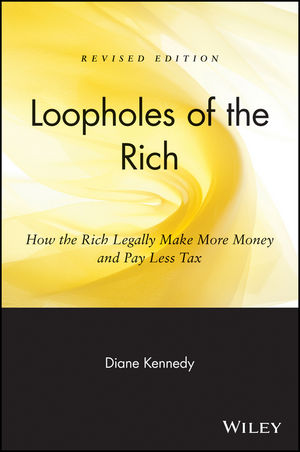 Loopholes of the Rich: How the Rich Legally Make More Money and Pay Less Tax, Revised Edition
ISBN: 978-1-118-04039-3
Dec 2010
336 pages
Description
Loopholes of the Rich helps Americans from all walks of life use the same tax loopholes that the wealthy use to lower their tax bill. With this handy guide, you won?t need an accountant to find quick and easy ways to pay less. And there?s nothing unethical about these tax loopholes. In fact, the government wants you to take advantage of them! These tax-reducing tactics and strategies can give you the freedom to save for your family?s future or for your own financial independence. Plus, you?ll find a handy checklist of more than 300 business deductions, real-life tax strategy examples, useful sample forms, explanations of IRS codes and rules, and much more.
Foreword by Mark Victor Hansen.
Introduction: The Rules Have Changed.
PART I: The Five STEPS to Financial Freedom.
CHAPTER 1: Starting Point—Understanding Your Financial Story.
CHAPTER 2: Team—Building a Team That Supports You.
CHAPTER 3: Evaluation—Constructing a Tax Loopholes Strategy.
CHAPTER 4: Path—Creating an Action Plan.
CHAPTER 5: Starting Point—What Worked, What Didn't Work.
PART II: Jump Start! Your Wealth.
CHAPTER 6: Jump Start! Principles for Tax-Advantaged Wealth Building.
CHAPTER 7: Creating Income with Less Tax.
CHAPTER 8: Using Business Structures to Create Legal Tax Loopholes.
CHAPTER 9: Discover Your Hidden Tax Loopholes.
CHAPTER 10: Control When and How Much You Pay in Taxes.
CHAPTER 11: Smart Real Estate Investing.
CHAPTER 12: Real Estate Loopholes to Take Money out of Your Property.
CHAPTER 13: Buying a Home the Right Way.
CHAPTER 14: Home Loopholes So Your Home Pays You.
PART III: New Tax Strategies for C Corporations.
CHAPTER 15: Avoid C Corporation Pitfalls.
CHAPTER 16: New C Corporation Tax Loopholes Strategies.
PART IV: Take Your Loopholes and Still Sleep at Night.
CHAPTER 17: Eliminate IRS Red Flags.
CHAPTER 18: How to Have a Painless IRS Audit.
Appendix A: Tax Loopholes Strategy Success Stories.
Appendix B: 300+ Business Deductions.
Appendix C: IRS Principal Business and Professional Activity Codes.
Appendix D: Sample Forms.
Index.
Meet Diane Kennedy.