Lotus Notes R5 For Dummies Quick Reference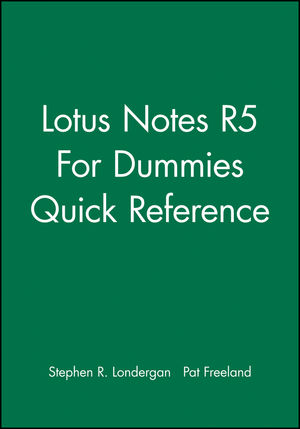 Lotus Notes R5 For Dummies Quick Reference
ISBN: 978-0-764-50319-1
Jun 1999
216 pages
Description
Waste no time with the unimportant odds and ends of Lotus Notes -- start completing your tasks right away. From using super-fast Notes-enhanced information searches to organizing your calendar, this superb, bite-sized reference, Lotus Notes R5 For Dummies Quick Reference, gives you the information you need in order to use all the important features of Lotus Notes R5. E-mail, calendars, databases, and more all are at your disposal, and all these can be stress free after you flip through this handy guide. Take advantage of this product's new-and-improved, user-friendly interface and discover its easy compatibility with Windows 98 and NT. Find out about your options for using Notes on-site or on the go. All this information (and more) is at your fingertips in Lotus Notes R5 For Dummies Quick Reference and can easily be accessed thanks to this book's lay-flat binding.
Introduction: How to Use This Book.

PART I: Getting to Know Notes.

PART II: Your E-Mail.

PART III: Your Calendar.

PART IV: Dealing with Databases and the Data They Contain.

PART V: Notes on the Road.

PART VI: Text Searching Near and Far.

PART VII: Notes and Other Programs.

PART VIII: Notes the Way YOU Want It.

Glossary: Techie Talk.

Index.

Book Registration Information.