Love, Power and Knowledge: Towards a Feminist Transformation of the Sciences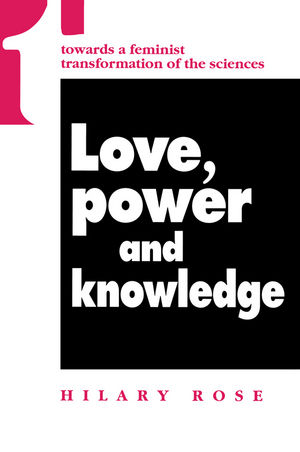 Love, Power and Knowledge: Towards a Feminist Transformation of the Sciences
ISBN: 978-0-745-66846-8 July 2013 Polity 344 Pages
Description
In this book Hilary Rose develops new terms for thinking about science and feminism, locating the feminist criticism of science as both integral to the feminist movement and to the radical science movement.
Table of contents
Prologue.
1. Introduction: Is a Feminist Science Possible?.
2. Thinking From Caring:.
Feminism's Construction of a Responsible Rationality.
3. Feminism and the Academy:.
Success and Incorporation.
4. Listening to Each Other:.
Feminist Voices in the Theory of Scientific Knowledge.
5. Gender at Work in the Production System of Science.
6. Joining the Procession:.
(Man)aging the Entry of Women into the Royal Society.
7. Nine Decades, Nine Women, Ten Nobel Prizes:.
Gender Politics at the Apex of Science.
8. Feminism and the Genetic Turn: .
Challenging Reproductive Technoscience.
9. Dreaming the Future:.
Other Wor(l)ds.
Epilogue: Womens Work is Never Done.
Bibliography.
Index.
Reviews
'A highly original choice of subject matter ... the book is an exciting adventure in alternative ways of looking at science.'
Public Understand Science
'This is a real heavyweight work of high academic quality. It, no doubt, marks a milestone in the development of feminist theory globally.' Scientists for Global Responsibility Newsletter
'Remarkable for its clarity in a field where recent literature has often been barely comprehensible - particularly to students.' Times Higher Education Supplement
'Immensely readable and lively. It was a constant delight to read and Hilary Rose managed to sustain the reader's interest throughout every page ... the book is important as well as engaging.' Sociology
'This is a richly informed interdisciplinary work which anyone interested in science needs to read.' Women's Philosophy Review
' 'In characteristically challenging and exciting style Hilary Rose has produced, in Love, Power and Knowledge, a 'tour de force' of feminist sociological critique of the social and biological sciences ... enormously wide ranging ... a thoroughly academic and scholarly journey demonstrating all that is exciting about rigorous but politically informed scholarship.' Contemporary Politics
Features
* A remarkably original examination of the nature of science from a feminist point of view.
* The text is both scholarly and deeply controversial. It will stimulate a wide-ranging discussion in academic life as well as in the media (very relevant given discussion of Human Genome programme).
* Hilary Rose has an international reputation as a pioneering thinker in the area of science and feminism. This key book will fully justify and advance this reputation.