Low-Calorie Dieting For Dummies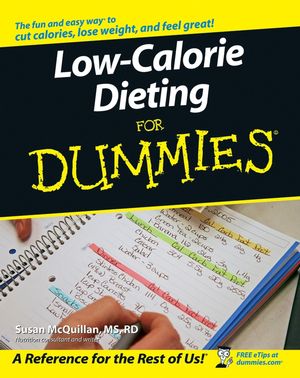 Low-Calorie Dieting For Dummies
ISBN: 978-1-118-07017-8 April 2011 388 Pages
Description
Break your bad habits and start enjoying a low-cal lifestyle!

Want to lose weight and keep it off for good? This no-nonsense guide shows you how to consume fewer calories than you burn, providing a delicious, easy, and safe low-calorie plan you can follow for life! You'll find tools to improve your eating and exercise habits, cope with stress and boredom, assess your progress, and live healthier and happier.

Discover how to:
Understand your metabolism.
Set realistic, attainable goals.
Maintain a healthy weight.
Stock a low-cal kitchen.
Eat right with simple, scrumptious, low-calorie recipes.
Stay motivated long-term.
Find outside support.
Order your copy today!
Introduction.
Part I: Understanding the Basics of Low-Calorie Dieting.
Chapter 1: Living a Low-Calorie Lifestyle.
Chapter 2: Figuring Out the State of Your Weight.
Chapter 3: Working with Guidelines for Healthy Low-Calorie Living.
Part II: Getting Started: The Four-Week Plan and Beyond.
Chapter 4: Kick-Starting Your Low-Calorie Plan.
Chapter 5: Cooking in a Low-Calorie Kitchen.
Chapter 6: Planning Low-Calorie Menus: The First Four Weeks.
Chapter 7: Pulling through Your Plan's First Few Months.
Chapter 8: Working Out and Working the Weight Off.
Part III: Overcoming Obstacles and Moving On.
Chapter 9: Making Your Way through Trials and Tribulations.
Chapter 10: Staying Fit and Stopping Regain in Its Tracks.
Chapter 11: Helping Yourself with Outside Resources.
Part IV: Trying Time-Tested Low-Calorie Recipes.
Chapter 12: Benefiting from Breakfast.
Chapter 13: Preparing Tasty Lunches.
Chapter 14: Sitting Down to Delicious Dinners.
Chapter 15: Fitting In Snacks and Desserts.
Part V: The Part of Tens.
Chapter 16: Ten Benefits of Following a Low-Calorie Diet.
Chapter 17: Ten Low-Calorie Success Stories.
Part VI: Appendixes.
Appendix A: Calorie Counts of Select Foods.29
Appendix B: Calorie Counts by Food Groups.
Appendix C: Metric Conversion Guide.
Index.