Low-Cholesterol Cookbook For Dummies, UK Edition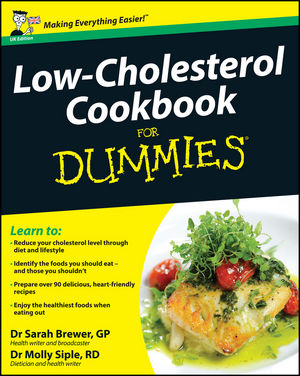 Low-Cholesterol Cookbook For Dummies, UK Edition
ISBN: 978-1-119-99679-8
Feb 2011
388 pages
Description
In the UK, 7 out of 10 people over the age of 45 have high cholesterol levels (Bupa 2007).   Although there are no clear symptoms, high cholesterol levels have been associated with heart disease and stroke – two of Britain's biggest killers.  There are several factors that can cause high cholesterol; an unhealthy diet, being overweight and a lack of exercise are three of the main contenders.  As a result, some of the best ways to control and reduce cholesterol levels are losing weight, eating a heart-healthy diet and taking regular exercise.

Although eating healthily may sound simple, it's often difficult to know which foods to avoid when trying to lower cholesterol. 
Fully adapted for the UK market, Low-Cholesterol Cookbook For Dummies reveals which food you should eat and helps readers make small changes to their diet to achieve big results.

Low-Cholesterol Cookbook For Dummies includes:
The latest dietary and medical information on cholesterol and how to control it
Over 90 delicious recipes as well as low fat cooking techniques and ways to lower cholesterol on a daily basis
Sensible advice on finding the right foods when shopping, planning menus, and adapting recipes to suit family and friends.
Introduction.
Part I: Understanding Cholesterol Basics.
Chapter 1: Conquering Cholesterol Is Easier Than You Think.
Chapter 2: Favouring Cholesterol-Friendly Foods.
Chapter 3: Separating Fat from Fiction.
Chapter 4: Controlling Cholesterol When Eating Out.
Chapter 5: Gearing Up for Healthy Cooking.
Part II: Mastering the Beneficial Breakfast.
Chapter 6: Enjoying a Wholesome Breakfast with Wholefoods.
Chapter 7: Making A Healthy Cooked Breakfast.
Chapter 8: Having Breakfast in a Jiffy.
Part III: Making Your Day with Heart-Healthy Snacks and Starters.
Chapter 9: Preparing Simple and Hearty Soups.
Chapter 10: Savouring Super Salads for Everyday Meals.
Chapter 11: Creating Mouth-Watering Starters for Special Occasions.
Chapter 12: Hoarding Healthy Nibbles.
Part IV: Cooking with Poultry, Fish, and Meat.
Chapter 13: Flocking to Chicken and Turkey: New Ways with Old Favourites.
Chapter 14: Serving Up Soulful Seafood.
Chapter 15: Managing Meats in a Healthy Diet.
Chapter 16: Sparking Flavours with Seasonings and Sauces.
Part V: Cooking with Cholesterol-Controlling Vegetables, Beans, and Grains.
Chapter 17: Welcoming Heart-Friendly Veg into Your Kitchen.
Chapter 18: Cooking Vegetarian Main Courses.
Chapter 19: Betting on Beans for Lower Cholesterol.
Chapter 20: Going With the Grains.
Part VI: Serving Up Sweet Finishes.
Chapter 21: Dishing Up Fruit for Dessert.
Chapter 22: Baking Up a Storm.
Chapter 23: Cheating with Quick Fix Desserts.
Part VII: The Part of Tens.
Chapter 24: Ten Beverages That Say, 'Here's to Your Health!'.
Chapter 25: Ten Ways to Trim Your Food Bill.
Index.