Lucky Science: Accidental Discoveries From Gravity to Velcro, with Experiments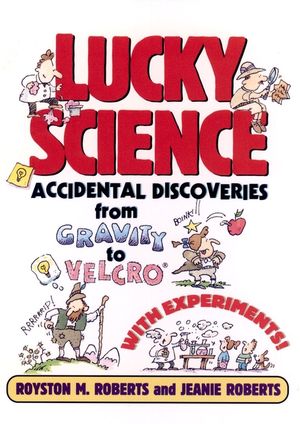 Lucky Science: Accidental Discoveries From Gravity to Velcro, with Experiments
ISBN: 978-0-471-00954-2
Oct 1994
128 pages
Description
An educational and fun book that encourages children to experiment with science by showing them that discoveries may be possible when they least expect it. Every discovery includes history, biography of the discoverer, scientific explanation and a simple, step-by-step experiment to try on their own. In addition to traditional discoveries such as gravity and photography, it features more modern ones like Velcro and Silly Putty. Covers topics in physics, chemistry, astronomy, biology and archaeology.
The Eureka Man: Archimedes Measures Volume.

An Apple Falls: Sir Isaac Newton Discovers Gravity.

A Dancing Frog's Leg: The Electric Battery and Electromagnetism.

Picture This: Daguerre Invents Photography.

Cow Medicine: Jenner and the Discovery of Vaccination.

The Case of the Melting Mailbags: Goodyear and the Vulcanization of Rubber.

A Smashing Discovery: Benedictus Invents Safety Glass.

Digs, Finds, Caves, and Dives: How to Succeed in Archaeology Without Really Trying.

Bangs, Twinkles, and Bumps: Astronomical Discoveries.

From the Moldy Past: Fleming Discovers Penicillin.

How Sweet It Is (and Nonfattening): Three Kinds of Substitute Sugar.

This Discovery Was a Stretch: Du Pont Chemists Make Nylon.

From Velcro to Corn Flakes: Everyday Life Gets Better Thanks to Accidental Discoveries.

Rubber That Relaxes: Silly Putty Becomes a Popular Toy.

Out of the Bomb and Into the Frying Pan: Plunkett Discovers Teflon.

Epilogue: How Accidents Become Discoveries.

Glossary.

Index.