Lucky Strikes...Again: (Feats and Foibles of Engineers)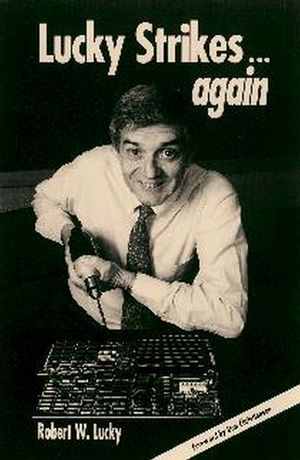 Lucky Strikes...Again: (Feats and Foibles of Engineers)
ISBN: 978-0-780-30433-8
Jan 1993, Wiley-IEEE Press
294 pages
Description
""Lucky's book...makes me laugh again and again...""
--Bill Moyers, Public Affairs Television, Inc.

Bob Lucky, author of the widely acclaimed ""Reflections"" column in Spectrum magazine, provides a humorous, nostalgic collection of ten years worth of his own reflections on typical situations engineers encounter during their careers. Spiced with 20% new anecdotes and personal experiences, LUCKY STRIKES...AGAIN takes good-natured gibes at corporate bureaucrats while offering some not-so-subtle advice on ways to circumvent the bureaucracy and gives the bureaucrats some hints on when to look the other way.
Foreword.
Preface.
Part 1 About Engineers.
The Joy of Engineering.
The Image Gap.
The High-Tech Appeal.
Celebrities as Engineers.
Layers of Ability.
Engineers: Dearth or Glut?
The Best and the Brightest.
Engineers: Born or Made?
The Curriculum Dilemma.
Giving Away the Store.
Part 2 So What If Engineers Can't Talk or Write?
The Gong Show.
Feedback.
The Banquet Speech.
Sliding By.
Not Ready for Prime Time.
Credentials: Who Needs Them?
A Way with Words.
The Papermill.
Part 3 The Fickleness of Technology.
Rampant Technology.
The Incredible Shrinking Transistor.
What's Real Anymore?
An Engineer in the Land of Lilliput.
Goodbye, Heathkit.
The Electronic Hobbyist.
The Paper Airplane.
A (Very Modern) Connecticut Yankee in King Arthur's Court.
Coping with Complexity.
Software Productivity.
What's Bugging Us?
Plugging In.
The Wisdom of the Net.
The Gigabit Network: Who Needs It?
Part 4 Playing the Corporate Game.
The Bean Counters.
Corporate Communication.
Management Power.
Toward Dynamic Demos.
The Fashionable Thing.
Leapfrog a Generation!
Proprietary Information.
Tahiti or O'Hare?
Committees and Canines.
Turf.
That Dreaded NIH Syndrome.
Finger Pointing.
Part 5 Looking at Life.
The Geniuses Among Us.
Diminishing Dinosaurs.
The Dreaded Test.
The Footsteps of Giants.
Faking It.
The Frenzied Life.
What's Going On?
The Information Age.
Part 6 Fantasies of the Future.
Coding Is Dead.
Computer Aid.
The Information Filter.
The Phone Surrogate.
The Communications Millennium.
The Friendly Interface.
The Ambitious Word Processor.
The Grand Challenge.
Carwars.
Telepresence.
HDTV... and Then?