M&A: A Practical Guide to Doing the Deal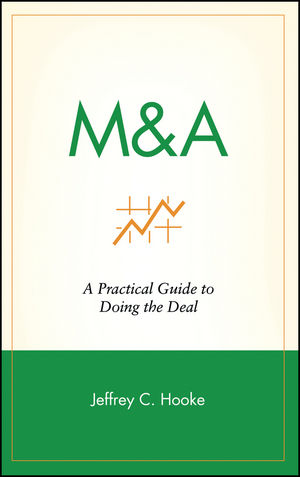 M&A: A Practical Guide to Doing the Deal
ISBN: 978-0-471-14462-5
Oct 1996
352 pages
Description
Disney has done it. Chemical Bank has also. So, too, have thousands of other companies. In fact, it has become a staple of American business today: mergers and acquisitions. Spreading across all industry lines and encompassing corporations both large and small, merger and acquisition deals are booming. In 1995 alone, the value of all announced deals exceeded $300 billion, including Disney's $19 billion acquisition of Capital Cities and Chemical Bank's $10 billion merger with Chase Manhattan.

As a dynamic means of fostering growth, more and more companies will be looking to "do the deal," making it essential for corporate managers and financial officers to know their way around the M&A process. In this authoritative new reference, Jeffrey Hooke-a specialist in the field who has participated in 70 corporate finance transactions-provides a practical, comprehensive, and well-rounded overview to the ins and outs of M&A deals.

Using real-life examples, Hooke takes you step by step through the M&A process, outlining the fundamental principles that underlie deals and pinpointing the important strategies that play key roles in successful transactions. The first step is developing a disciplined acquisition plan that includes a researched assessment of management readiness and financial capability. With your finances in order, it's time to find the deal that matches your company's objectives. Hooke shows you how to initiate an acquisition search by starting your own program, screening candidates, and implementing direct contact; and when you're ready to price and close a deal, Hooke's proven valuation and negotiating strategies will have you on firm footing.

An invaluable primer for corporate executives and investment professionals involved in the mergers and acquisitions process, M&A is the most complete guide available today. M&A gives you the A to Z on:
* Key risks that face corporate acquirers-operating issues, the danger of overpayment, financial leverage concerns
* Valuation tools-using the intrinsic value approach and applying the relative value method such as comparable P/E and EBIT ratios
* Buyer categories-Window Shopper, Bottom Fisher, Strategic Buyer
* Maximum deal size guidelines-affordability, management experience, corporate risk tolerance
* The basics of negotiating and structuring-letter of intent (LOI), due diligence investigation, closing and postmerger integration
* Selling a business-retaining a financial advisor, approaching the market, confirming a valuation range

A savvy guide to mastering the art of M&A

From an expert in the M&A field comes a one-of-a-kind book that takes business executives and investment professionals through the complete mergers and acquisitions process.

"Jeffrey Hooke has done a fine job explaining the 'ins and outs' of a very complex business. He knows what he's talking about."-John C. Whitehead, former Co-Chairman, Goldman, Sachs & Co.

"M&A takes the fear out of the decision-making process-a great pragmatic tool. Hooke has given us a fine 'how-to' manual."-Kenneth Tuchman, Managing Director, Lehman Brothers, Inc.

"Hooke's basic outline of the dynamics involved provide a basic overview for both corporate executives and business students. His examples-real transactions coupled with the practicalities and legalities of the deal business-make for informative and enjoyable reading."-Gilbert W. Harrison, Chairman, Financo, Inc.

"Jeffrey Hooke has written a first-class primer on the science and art of mergers and acquisitions. This book will be a standard for both students and practitioners in the field."-Glenn H. Hutchins, Senior Managing Director, The Blackstone Group
Corporate Growth Strategies.

Why Acquire a Business?

Discipline in Acquiring Companies.

The Merits of Growth Through Acquisition.

The Importance of a Business Plan.

Typical Buyer Categories.

Key Risks.

How Large a Deal?

An Equity Valuation Primer.

Valuing Marginal Performers.

Finding a Deal.

Sifting Through Potential Acquisitions.

Financial Projections: Evaluating Theirs.

Financial Projections: Doing Yours.

The Operations Screen.

The First Offer Price.

The Basics of Negotiating, Due Dilegence, and Structuring.

Leveraged Buyouts.

Asset Deals, "Bust-Up" Transactions, and Bottom Fishing.

The Popular Strategy of Buying Wholesale and Selling Retail.

When to Sell a Company or a Division.

Going Through the Sale Process.

Final Thoughts on Doing Deals.

Index.