MALDI Mass Spectrometry for Synthetic Polymer Analysis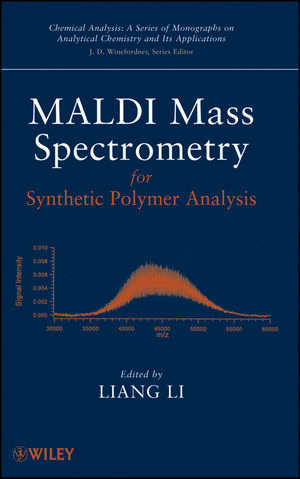 MALDI Mass Spectrometry for Synthetic Polymer Analysis
ISBN: 978-0-470-56722-7
Oct 2009
320 pages
Description
Principles and Practices of Polymer Mass Spectrometry helps readers acquire the skills necessary for selecting the optimal methods, handling samples, analyzing the data, and interpreting the results of the mass spectrometry of polymers. This guide describes the principles of polymer MS and best practices in polymer characterization. It discusses different approaches, including MALDI, ESI, TOF MS, and FT-MS. It provides a guide to developing appropriate sample preparation protocols for different polymers. Complete with examples of applications and experiments, this is an excellent reference for scientists, researchers, graduate students, and others.
Preface.
Contributors.
1. Overview of MS and MALDI MS for polymer analysis.
2. Ionization Processes and Detection in MALDI-MS of Polymers.
3. Time-of-flight MS for polymer characterization.
4. Polymer analysis with Fourier Transform mass spectrometry.
5. Tandem MS and polymer ion dissociation.
6. Conventional MALDI sample preparation.
7. Solvent-free MALDI sample preparation.
8. MALDI MS for the quantitative determination of polymer molecular mass distribution.
9. New approaches to data reduction in MS.
10. MALDI MS/MS for polymer structure and composition analysis.
11. LC-MALDI MS for polymer characterization.
12. MALDI MS applications for industrial polymers.
"The primary audience will be beginning graduate students (or advanced undergraduates) who are starting research on MALDI of polymers. It will also be of great value for industrial chemists who work in polymer MALDI. I would also recommend it to polymer chemists who want to understand how MALDI can help them in their work." (Anal Bioanal Chem, 2010)
"Overall, I highly recommend this book for any polymer scientist with access to MALDI-MS as it will aid in the better planning of experiments and interpretation of the results. This is definitely a book for beginning graduate students in the field and for MS facility managers who are constantly exposed to a wide variety of samples, with synthetic polymers being among them." (JACS, 2010)