MCITP: Microsoft Windows Vista Desktop Support Consumer Study Guide: Exam 70-623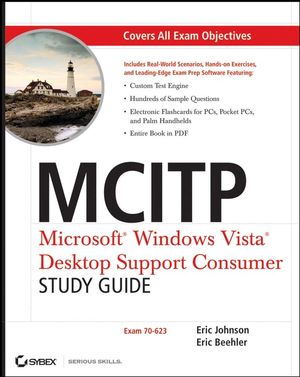 MCITP: Microsoft Windows Vista Desktop Support Consumer Study Guide: Exam 70-623
ISBN: 978-0-470-26212-2
Mar 2008
509 pages
Product not available for purchase
Description
If you are a support professional who sets up, maintains, and troubleshoots desktop applications on Windows Vista, now you can build your skills and prepare for exam 70-623, MCITP: Supporting and Troubleshooting Applications on a Windows Vista Client for Consumer Support Technicians, the required exam for achieving certification as an MCITP: Consumer Support Technician. Inside this comprehensive study guide you'll find full coverage of all exam objectives, practical hands-on exercises, real-world scenarios, challenging review questions, and more.



For Instructors: Teaching supplements are available for this title.
Introduction.
Assessment Test.
Chapter 1: Installing Windows Vista.
Chapter 2: Customizing and Configuring Windows Vista.
Chapter 3: Installing, Configuring, and Troubleshooting Devices.
Chapter 4: Configuring Windows Media Center and Media Player.
Chapter 5: Configuring Windows Vista Security.
Chapter 6: Configuring Networking.
Chapter 7: Troubleshooting and Repairing Networking.
Chapter 8: Troubleshooting and Repairing Windows Vista.
Glossary.
Appendix: About the Companion CD.
Index.
Covers all exam objectives. Each chapter includes a list of objectives covered in that chapter, following by in-depth discussion of those objectives, complete with hands-on Exercises and Real World Scenarios.

Chapters conclude with an ""Exam Essentials"" section and comprehensive review questions.

The companion CD features leading-edge exam prep software with test engine of practice questions and electronic flashcard, as well as the entire book in a searchable pdf format.

Topics include: Managing and Troubleshooting OS Components ; Working with  Hardware Devices and Drivers; Installing and Configuring Applications; Troubleshooting Applications; Working with Mobile Devices.