MCITP Administrator: Microsoft SQL Server 2005 Database Server Infrastructure Design Study Guide (Exam 70-443)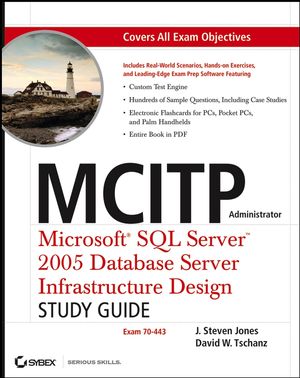 MCITP Administrator: Microsoft SQL Server 2005 Database Server Infrastructure Design Study Guide (Exam 70-443)
ISBN: 978-0-470-04744-6
Sep 2006
457 pages
Product not available for purchase
Description
This comprehensive book guides readers through Microsoft's brand-new SQL 2005 administrator exam: Designing a Database Server Infrastructure by Using Microsoft SQL Server 2005 (Exam 70443)
Addresses the database tasks that the MCITP exam focuses on such as design, development, deployment, optimization, maintenance, and support
Reviews key topics, including defining high availability solutions, automating administrative tasks, defining security solutions, monitoring and troubleshooting the database server, and much more
The CD-ROM features leading-edge exam prep software with test engine plus hundreds of practice questions and electronic flashcards
Note: CD-ROM/DVD and other supplementary materials are not included as part of eBook file.
Introduction.
Assessment Test.
Chapter 1: Designing the Hardware and Software Infrastructure.
Chapter 2: Designing Physical Storage.
Chapter 3: Designing a Consolidation Strategy.
Chapter 4: Designing Database-Level Security.
Chapter 5: Designing Windows Server-Level Security Processes.
Chapter 6: Designing SQL Server Service-Level Security.
Chapter 7: Designing SQL Server Object-Level Security.
Chapter 8: Designing a Physical Database.
Chapter 9: Creating Database Conventions and Standards.
Chapter 10: Designing a SQL Server 2005 Solution for High Availability.
Chapter 11: Designing a Data Recovery Solution for a Database.
Chapter 12: Designing a Data-Archiving Solution.
Glossary.
Index.
Reviews key topics, including defining high availability solutions, automating administrative tasks, defining security solutions, monitoring and troubleshooting the database server, and much more.
Each chapter includes a list of objectives covered in that chapter, following by in-depth discussion of those objectives, complete with hands-on Exercises and Real World Scenarios.
Chapters conclude with an "Exam Essentials" section and comprehensive review questions.
The CD-ROM features leading-edge exam prep software with test engine plus hundreds of practice questions and electronic flashcards, as well as the entire book in a searchable pdf format.