MCSA / MCSE: Exchange Server 2003 Implementation and Management Study Guide: Exam 70-284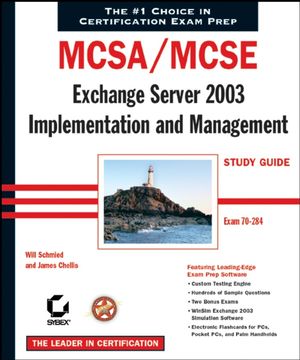 MCSA / MCSE: Exchange Server 2003 Implementation and Management Study Guide: Exam 70-284
ISBN: 978-0-782-15139-8
Feb 2006
704 pages
Product not available for purchase
Description
Here's the book you need to prepare for the Implementing and Managing Microsoft Exchange Server 2003 exam (70-284).
This Study Guide was developed to meet the exacting requirements of today's certification candidates. In addition to the consistent and accessible instructional approach that earned Sybex the "Best Study Guide" designation in the 2003 CertCities Readers' Choice Awards, this book provides:
Clear and concise information on managing an Exchange network environment
Practical examples and insights drawn from real-world experience
Leading-edge exam preparation software, including a testing engine and electronic flashcards for your Palm
You'll also find authoritative coverage of key exam topics, including:
Installing, Configuring, and Troubleshooting Exchange Server 2003
Managing, Monitoring, and Troubleshooting Exchange Server Computers
Managing, Monitoring, and Troubleshooting the Exchange Organization
Managing Security in the Exchange Environment
Managing Recipient Objects and Address Lists
Managing and Monitoring Technologies that Support Exchange Server 2003
Note: CD-ROM/DVD and other supplementary materials are not included as part of eBook file.
Introduction.
Assessment Test.
Chapter 1 Introduction to Microsoft Exchange.
Chapter 2 Microsoft Exchange Architecture.
Chapter 3 Installing Microsoft Exchange Server 2003.
Chapter 4 Creating and Managing Exchange Clusters.
Chapter 5 Creating and Managing Exchange Recipients.
Chapter 6 Using Public Folders.
Chapter 7 Configuring Client Access.
Chapter 8 Building Administrative and Routing Groups.
Chapter 9 Configuring the Information Store.
Chapter 10 Administration and Maintenance.
Chapter 11 Coexisting with and Migrating from Exchange 5.5.
Chapter 12 Coexisting with and Upgrading from Exchange 2000 Server.
Chapter 13 Connecting with Other Messaging Systems.
Chapter 14 Backup and Recovery.
Chapter 15 Securing and Troubleshooting Exchange Server 2003.
Glossary.
Index.
Clear and concise information on managing an Exchange network environment
Practical examples and insights drawn from real-world experience
Leading-edge exam preparation software, including a testing engine and electronic flashcards for your Palm
You'll also find authoritative coverage of key exam topics, including:

Installing, Configuring, and Troubleshooting Exchange Server 2003
Managing, Monitoring, and Troubleshooting Exchange Server Computers
Managing, Monitoring, and Troubleshooting the Exchange Organization
Managing Security in the Exchange Environment
Managing Recipient Objects and Address Lists
Managing and Monitoring Technologies that Support Exchange Server 2003
Chapter
Page
Details
Date
Print Run
Combined Errata


Page 32

Chapter 1 Review Question 6 "A: Multiple data bases per server " should read "A: Multiple storage groups per server"

Chapter 1 Question 6 - "C: Front-end and back-end server support" should be C: "The X.400 connector"

Page 34

Review Question 15 - last sentence in the paragraph "which edition of exchange 2000 would you need for these servers?" It should read, " "which edition of exchange 2003 would you need for these servers?"

Page 35

Question 19 Change the answer to this:"Answer: A. HTTP is the protocol used to define how messages are sent between a web browser and a web server."

Page 36

As question stands, Answer "A,C,D" should be only "D"


Page 102

Second paragraph, third sentence reads:
"Upgrades can be performed from Exchange Server 2003 Service Pack 3 computers..."
It should read:
"Upgrades can be performed on Exchange Server 2000 Service Pack computers..."

---