MCSA/MCSE: Windows® 2000 Professional Study Guide: Exam 70-210, 2nd Edition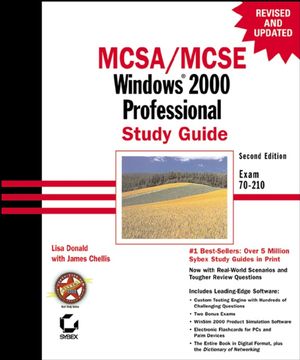 Description
Here's the book you need to prepare for Exam 70-210, Installing, Configuring, and Administering Microsoft Windows 2000 Professional.
This study guide provides:
In-depth coverage of every exam objective--all the information you need
Practical information on installing, configuring, and administering Windows 2000 Professional
Hundreds of challenging review questions, in the book and on the CD
Leading-edge exam preparation software, including a testing engine, electronic flashcards, and simulation software
Authoritative coverage of all exam objectives, including:
Installing Windows 2000 Professional
Implementing and conducting administration of resources
Implementing, managing, and troubleshooting hardware devices and drivers
Monitoring and optimizing system performance and reliability
Configuring and troubleshooting the desktop environment
Implementing, managing, and troubleshooting network protocols and services
Implementing, monitoring, and troubleshooting security
Note: CD-ROM/DVD and other supplementary materials are not included as part of eBook file.
Introduction.
Assessment Test.
Chapter 1: Getting Started with Windows 2000 Professional.
Chapter 2: Automating the Windows 2000 Installation.
Chapter 3: Upgrading to Windows 2000 Professional.
Chapter 4: Configuring the Windows 2000 Environment.
Chapter 5: Managing the Desktop.
Chapter 6: Managing Users.
Chapter 7: Managing Groups.
Chapter 8: Using User Profiles and Hardware Profiles.
Chapter 9: Managing Disks.
Chapter 10: Accessing Files and Folders.
Chapter 11: Managing Network Connections.
Chapter 12: Managing Printing.
Chapter 13: Dial-Up Networking and Internet Connectivity.
Chapter 14: Optimizing Windows 2000.
Chapter 15: Performing System Recovery Functions.
Glossary.
Index.
Download Edge Demo
Download a .zip file with the Edge Demo.
To uncompress the file, Windows users can use Windows built-in ZIP utilities or a 3rd party utility like WinZip or WinRAR. Macintosh users can simply double-click the downloaded file to extract using the built-in archive utility.
Download
Download Images Used in the Book
Download a .zip file with the images used in the book.
To uncompress the file, Windows users can use Windows built-in ZIP utilities or a 3rd party utility like WinZip or WinRAR. Macintosh users can simply double-click the downloaded file to extract using the built-in archive utility.
Download
Download Flash Demo
Download a .zip file with the Flash Demo.
To uncompress the file, Windows users can use Windows built-in ZIP utilities or a 3rd party utility like WinZip or WinRAR. Macintosh users can simply double-click the downloaded file to extract using the built-in archive utility.
Download
Download Palm Demo
Download a .zip file with the Palm Demo.
To uncompress the file, Windows users can use Windows built-in ZIP utilities or a 3rd party utility like WinZip or WinRAR. Macintosh users can simply double-click the downloaded file to extract using the built-in archive utility.
Download
Download WinSim Demo
Download a .zip file with the WinSim.
To uncompress the file, Windows users can use Windows built-in ZIP utilities or a 3rd party utility like WinZip or WinRAR. Macintosh users can simply double-click the downloaded file to extract using the built-in archive utility.
Download
Chapter
Page
Details
Date
Print Run
Combined Errata


Page 0 CD

Edge Tests, Chapter 1, Ques. #8 -
The figure in the book does not match the figure on the CD. The figure in the book is correct.

On the CD, the ram specification for computers A and C are switched, this is incorrect.
Bonus Exam 1, Ques. # 13 of 50. .
The questions states that Sally uses an English, or localized version, version of Windows 2000. Then the question asks, "Which of the following options are supported by Windows 2000 Multilingual?"

The last part of the question should read:
"Which of the following options are supported by Windows 2000 localized version?"

Page 8

Table 1.1, Recommended Memory 132MB should read "128MB"

Page 9

1st para., last line, 132MB of RAM requirement is incorrect. It should be 128MB.

Page 17

3rd paragraph, 1st sentence should include Windows 9x.
The reference to Windows 9x should be removed from the 2nd sentence and inserted into the 1st sentence of the paragraph.

To Read...
The command to create boot disks from a Windows 2000, Windows 9x or Windows NT computer is
MAKEBT32.EXE. The command to make boot disks from any other operating system is MAKEBOOT.EXE.
These utilities are located on the Windows 2000 Professional CD in the BOOTDISK folder. In the Installing Windows 2000 over a Network section, Step #2 should read, "Attach to the distribution server. This server should have a share created for the folder that contains the \I386 folder from the Windows 2000 Professional distribution CD."

Page 36

Ques. #8, Free Disk Space for Computer B should be "750MB' and for Computer C, Free Disk Space should be "650MB"

Page 40

Answer to question #7 is B,C,D but explanation is incorrect.
Correct explanation should read:

B,C,D. You can run Winnt32 only from Windows 95, Windows 98, Windows NT, or Windows 2000.

Page 120

Question #2, Answer B. should read "She has third-party applications that support compressed drives".

Page 124

Ques. # 13, Answer "A" should read WINNT32 with/Checkupgradeonly

Page 127

Ques. # 13 answer, 2nd line WINNT should be WINNT32

Page 184

2nd sentence in Step # 6 should read "Click Devices in the left-hand pane to list the fax devices."

Page 200

Question 9 option C. Should read "Control Panel, Power Options"

Page 205

Answer to Question 9 should read "The Power Options icon..."

The answer to question 5 should read "A. ACPI (Advanced Configuration and Power Interface) is the technology that is used to reduce the power consumption of a computer."

Page 271

"Setting Password Policies" In Exercise 6.11, Step # 3, 1st line, change "Effective" to "Local"

Page 293

Exercise 16 Step 1 should read..."1. Log in as user Emily with the password Peach. You should see a message indicating the system could not log you on. The problem is that Emily's password is peach ( all lower-case), and passwords are case sensitive."

Page 316

In Exercise 7.1, Step # 4 is unnecessary, delete this step in its entirety. Re-number Step # 5 to read Step # 4.

Page 369

Under FAT32, 8th line, "2tb" should read "32GB"

Page 408

Under "Using the CIPHER Utility", the command should read:
CIPHER /[command parameter] [dirname]

You can not encrypt/decrypt files directly. Must be done to directory containing the file.

Page 439

In Table 10.1, "Show My Documents on the Desktop" (next to last row), last sentence should read, "Disabling this option removes My Documents from the Desktop."

Page 452

Under the bullet "The List Folder..." delete the first bullet, "Traverse folders....".

Page 534

Review Ques. # 1, Diagram for Server 1 , '10Mbps' should be "100Mbps".

Chaper 11, Review Ques. #1, at the top of the diagram '10/100 Mbps' should be '100 Mbps'."

Page 700

Chapter 14 Review Ques. # 11, 2nd sentence, change to read:"You might have a disk subsystem bottleneck when this counter is equal to or over which of the following values".

Page 711

Table 15.2 Event View Log Events, Event Type Information is a "White dialog bubble with a blue lower case "i", for "information" not "White dialog bubble with a blue forward slash (/)".

Page 783

The definition of "Cacheing", "Cacheing" is mis-spelled in four instances, should be "Caching"

Page 810

Under the definition of "ZAP files", the acronym of MIS is used, which should be MSI.

Page FAQ

The terms "Upgrade Packs and Update Packs" are used throughout the book. Which is correct?
This is due to inconsistencies with Microsoft terminology. For exam objectives they used the term Update Packs. Most of their documentation calls them Upgrade packs.


---