MCSA/MCSE: Windows® XP Professional Study Guide: Exam 70-270, 3rd Edition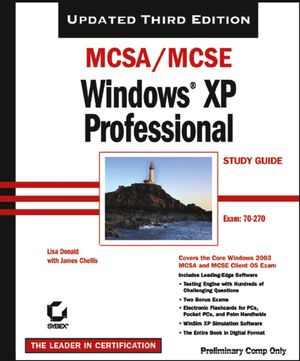 Description
Here's the book you need to prepare for the Installing, Configuring, and Administering Microsoft Windows XP Professional exam (70-270). This Study Guide was developed to meet the exacting requirements of today's certification candidates. In addition to the consistent and accessible instructional approach that made Sybex the preferred choice for certification exam candidates, this book provides:
Practical information on installing, configuring, and administering Windows XP Professional
Updated and expanded information on key exam topics, including new Service Pack 2 enhancements
Leading-edge exam preparation software, including a testing engine, electronic flashcards, and simulation software
Authoritative coverage of all exam objectives, including:
Installing Windows XP Professional
Implementing and conducting administration of resources
Implementing, managing, and troubleshooting hardware devices and drivers
Monitoring and optimizing system performance and reliability
Configuring and troubleshooting the desktop environment
Implementing, managing, and troubleshooting network protocols and services
Implementing, monitoring, and troubleshooting security
Introduction.
Assessment Test.
Chapter 1: Getting Started with Windows XP Professional.
Chapter 2: Automating the Windows XP Installation.
Chapter 3: Upgrading to Windows XP Professional.
Chapter 4: Configuring the Windows XP Environment.
Chapter 5: Managing the Windows XP Professional Desktop.
Chapter 6: Managing Users and Groups.
Chapter 7: Managing Security.
Chapter 8: Managing Disks.
Chapter 9: Accessing Files and Folders.
Chapter 10: Managing Network Connections.
Chapter 11: Managing Printing.
Chapter 12: Dial-Up Networking and Internet Connectivity.
Chapter 13: Optimizing Windows XP.
Chapter 14: Performing System Recovery Functions.
Glossary.
Index.
Updated to cover new features found in XP Service Pack 2 (aka "XP Reloaded")
Value of MCSA and MCSE certifications remains strong both for candidates and companies
Sybex winner of "Best Study Guides" in CertCities.com 2003 Readers' Choice Awards
Chapter
Page
Details
Date
Print Run
14
662
Error in text re: Remote Desktop Connection
Under the heading Installing the Remote Desktop Client Software
From the sentence that begins "This software is installed..." delete "Windows XP Home Edition and" so that the sentence reads

"This software is installed by default on computers running Windows XP Professional."
5/24/07

---