MCSA / MCSE: Windows 2000 Server Study Guide: Exam 70-215, 2nd Edition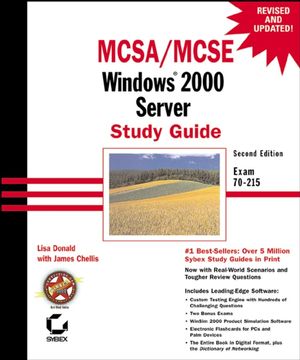 MCSA / MCSE: Windows 2000 Server Study Guide: Exam 70-215, 2nd Edition
ISBN: 978-0-782-12947-2
Jul 2001
854 pages
Product not available for purchase
Description
Here's the book you need to prepare for Exam 70-215, Installing, Configuring, and Administering Microsoft Windows 2000 Server.

This study guide provides:
In-depth coverage of every exam objective—all the information you need
Practical information on every aspect of Windows 2000 Server
Hundreds of challenging review questions, in the book and on the CD
Leading-edge exam preparation software, including a testing engine, electronic flashcards, and simulation software
Authoritative coverage of all exam objectives, including:
Installing Windows 2000 Server
Installing, configuring, and troubleshooting access to resources
Configuring and troubleshooting hardware devices and drivers
Managing, monitoring, and optimizing system performance, reliability, and availability
Managing, configuring, and troubleshooting storage use
Configuring and troubleshooting Windows 2000 network connections
Implementing, monitoring, and troubleshooting security
Note: CD-ROM/DVD and other supplementary materials are not included as part of eBook file.
Introduction.
Assessment Test.
Chapter 1: Getting Started with Windows 2000 Server.
Chapter 2: Automating the Windows 2000 Server Installation.
Chapter 3: Configuring the Windows 2000 Server Environment.
Chapter 4: Managing Users and Groups.
Chapter 5: Managing Security.
Chapter 6: Managing Disks.
Chapter 7: Accessing Files and Folders.
Chapter 8: Administering the Distributed File System.
Chapter 9: Managing Network Interoperability.
Chapter 10: Managing Web Services.
Chapter 11: Managing Printing.
Chapter 12: Administering Terminal Services.
Chapter 13: Managing Remote Network Connections.
Chapter 14: Optimizing Windows 2000.
Chapter 15: Performing System Recovery Functions.
Glossary.
Index.
Download All Images and Demos
Download a .zip file with the demos and images used in the book.
To uncompress the file, Windows users can use Windows built-in ZIP utilities or a 3rd party utility like WinZip or WinRAR. Macintosh users can simply double-click the downloaded file to extract using the built-in archive utility.
Download
Chapter
Page
Details
Date
Print Run
Combined Errata


Page 0 CD

PC Flashcards :The second flashcard asks "The minimum processor that should be used with Windows 2000 server is ____.". The answer should be "Intel Pentium 133 MHz".

PC Flashcards - The question is "You need at least a ___ hard drive with ___ of free space on the computer that will be upgraded to Windows 2000 Server.". The correct answers are 2 GB(total) and 1 GB (free).

Page 5

2nd bullet under Windows 2000 Datacenter Server, "64GB" should read "32GB"

Page 15

Installing by Booting the Windows 2000 CD: Should read " ..insert the Windows 2000 Server CD..."

Page 60

Review Question 7, The correct answer is B. and should read "If you perform a clean installation of Windows 2000 Server, there is support for 4 processors..."

Page 271

Table 6.1 the "Maximum Volume size" for FAT32 is stated as 2TB. This should be 32GB. You cannot format a volume larger that 32GB on Windows 2000 using FAT32. See Microsoft Knowledge Base article Q184006.

Table 6.1 the "Maximum Volume size" for FAT32 is stated as 2TB. This should be 32GB. You cannot format a volume larger that 32GB on Windows 2000 using FAT32.

Page 331

Key Terms, "Dynamic Storag" should read "Dynamic Storage"

Page 332 and 340

Question 1, "Advanced Tab" should read "Advanced Button" there is no Advanced Tab in the properties window

Page 346

Under 3rd Main Bullet on page, The List Folder ......, delete sub-bullet "Traverse folders"

Page 373

Local and Network Resource Access, last para., 3rd line, Sales group should be "Managers group"

Local and Network Resource Access, last para., 5th line, Modify permission should be "Change permission"

Local and Network Resource Access, last para., last line, Read should be "Change."

Page 374

FIGURE 7.16 On NTFS side, Managers ACE permission (Full Control) should be "Change", on SHARE side, Managers ACE permission (Change) should be "Full Control"

Page 389

Please change the text on the first bullet to "Microsoft recommends that it should be hosted on a domain member server."

Page 410

Question 2 - The answer should read "They can be hosted on domain member servers on domain controller servers, though Microsoft recommends that you use domain member servers."

Page 520

1st para., 1st sentence, "highlight New Port" should be replaced with "click Local Port"

Page 540

Under Configuring Print Server Properties, The first sentence ".., shown in Figure 11.29..." Should be "...Shown in Figure 11.23..."

Page 592 - 593

Under "Connecting the Terminal Client to Terminal Server", 1st bullet should read "The Client Connection Manager utility is used to create a Terminal Services connection manually". 2nd bullet should read "The Terminal Services Client utility is used to create predefined connections that can be used to connect to a Terminal server"..

Page 732

Under 3rd bullet, 2nd line should read "(Small Computer Systems Interface) ........"

Page 737

Under Boot.INI Swithes :/noguiboot Description: should be "This option prevents the graphical startup screen from being displayed."




---