MCSA / MCSE 2003 JumpStart: Computer and Network Basics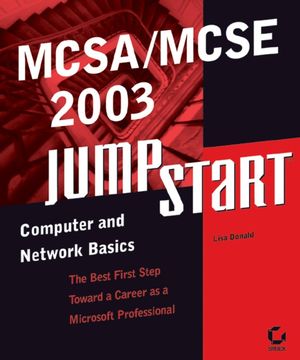 MCSA / MCSE 2003 JumpStart: Computer and Network Basics
ISBN: 978-0-782-15164-0
Feb 2006
384 pages
Product not available for purchase
Description
Get Up To Speed for Windows XP and Server 2003 Training-Fast!
MCSA/MCSE 2003 JumpStart gives you the solid grounding you need to approach MCSA and MCSE certification training with confidence:
Microprocessors and memory
Data storage
Input/output devices
Hardware configuration
Desktop operating systems
DOS and Windows basics
The OSI reference model
Common network models and architectures
Internetworking protocols
Network operating systems
Windows XP and Server 2003 platforms
Active Directory basics
Windows XP and Server 2003 account and resource management
Introduction.
Chapter 1: The Computer¿s Brain: Processors and Memory.
Chapter 2: Storing Your Files: Data Storage.
Chapter 3: Data Movement: Input/Output Devices.
Chapter 4: Hardware Configuration.
Chapter 5: Desktop Operating Systems: A Comparison.
Chapter 6: DOS 101: DOS Basics Every MCSA and MCSE Should Know.
Chapter 7: Graphical Interface: Windows Basics.
Chapter 8: A Communications Framework.
Chapter 9: Network Models.
Chapter 10: Data-Link and Network Layer Protocols.
Chapter 11: Network Operating Systems: A Comparison.
Chapter 12: Windows Server 2003 Origins and Platforms.
Chapter 13: Windows Server 2003 Active Directory.
Chapter 14: Account Management.
Chapter 15: File and Print Management.
Appendix A: Answers to Review Questions.
Appendix B: Glossary.
Appendix C: Common Acronyms.
Index.
Chapter
Page
Details
Date
Print Run
Combined Errata


Page 287,290

On the table at the bottom of Page 287, the Share and NTFS options are reversed. The Share option should say Security only at the folder level and the NTFS option should say Security on files and folders.




---