MCSE: Exchange 2000 Server Administration Study Guide: Exam 70-224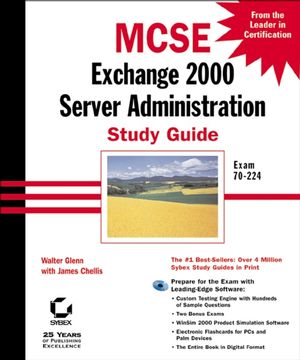 Description
Here's the book you need to prepare for Exam 70-224, Installing, Configuring, and Administering Microsoft Exchange 2000 Server:
Full coverage of every exam objective—all the information you need to know
Practical information on installing, configuring, and administering Exchange 2000 Server
Hundreds of challenging review questions, in the book and on the CD
Leading-edge exam preparation software, including a testing engine, simulation software, and electronic flashcards
Authoritative coverage of all exam objectives, including:
Installing and upgrading Exchange 2000 Server
Configuring Exchange 2000 Server
Managing recipient objects
Monitoring and managing messaging connectivity
Managing Exchange 2000 Server growth
Restoring system functionality and user data
Note: CD-ROM/DVD and other supplementary materials are not included as part of eBook file.
Introduction.
Assessment Test.
Chapter 1 Introduction to Microsoft Exchange.
Chapter 2 Microsoft Exchange Architecture.
Chapter 3 Installing Microsoft Exchange 2000 Server.
Chapter 4 Creating and Managing Recipients.
Chapter 5 Using Public Folders.
Chapter 6 Configuring Client Access.
Chapter 7 Building Administrative and Routing Groups.
Chapter 8 Configuring the Information Store.
Chapter 9 Administration and Maintenance.
Chapter 10 Configuring Auxiliary Services.
Chapter 11 Connecting to Exchange 5.5.
Chapter 12 Connecting with Other Messaging Systems.
Chapter 13 Backup and Recovery.
Chapter 14 Securing Exchange 2000 Server.
Glossary.
Index.
Chapter
Page
Details
Date
Print Run
Combined Errata


Page 20

Under Interoperability, last paragraph:
"IBM OfficeVision/PROFS" and "IBM SNADS-based systems" should be removed from the list.

Page 47

Answer to Question 19 Should be "B - HTML is the mark-up language that a Web browser uses to determine how a page should be displayed in the browser window."

Page 120

The log file created during Exchange 2000 installation should be "Exchange Server Setup Progress.log" (instead of .txt)

Page 132

6. B. Exchange Server Setup Progress.log

Ques. # 2 answer should read "C, D. In order to run the ForestPrep utility," instead of "C, D. In order to run the DomainPrep utility,"

Page 133

Answer to Question # 12:
"support for connectors for foreign systems" should be removed.

Page 134

Question # 19, the correct answers are A & B

Page 155

Under Expansion Server, 2nd sentence should read "A categorizer performs this expansion."

Page 192

Under "A special user named Default"
Delete the sentence "The author role enables users to create subfolders under the top-level folder."

Page 194

In table 'hiding public folders' sub-heading 'hiding a public folder from the gal' should state public folders are NOT hidden by default. you must manually hide them, by enabling the check box 'hide public folder from global address list'.

Page 202

Under Managing Public Folders with System Manager:
Delete the sentence "In addition, Outlook cannot be used to create top-level folders in the hierarchy;"

Page 236

Answer to Question #15 should be "B" vs. "A". The explanation is correct.

Page 273

7th & 8th lines on page, the phrase should read
"as in http://owa.microsoft.com/exchange/user/contacts, where user is the user's mailbox name."

Page 278

Under POP3 Architecture,
Last para, line 3, port 993 should be "995"

Page 288

Table 6.7 under the "Property Page" under "General"

POP3 should be "NNTP"

Page 360

1st paragraph should read "Circular logging is disabled by default..."

Page 435

First bullet under third paragraph should read: :
Control panel > Administrative Tools > Services

Page 509

Under Connections Properties:
2nd and 3rd Sentences should read:

"The Windows server must be running Windows 2000 with Windows Service Pack 1 and Active Directory. The Exchange server must be running Exchange server 5.5 with Service Pack 3 applied, ..."

Page 531

Answer to Question #9.
The correct answers are "A, B and D". "C" is not valid because replication is not possible between two different organizations as explained on page 512.

Page FAQ

X.400 Connector.
MS decided not to include X.400 support
in the standard edition after all. Here is a link to a page listing the differences:

http://www.microsoft.com/exchange/howtobuy/choosing/default.asp

Thanks,
Walter Glenn

Page lix

Answer to Assessment Test Question #18:
In the 1st sentence of the answer, TCP port 110 should be "TCP port 143."

Page xlvii

Assessment Test, Question 18: In the last sentence, change POP3 to "IMAP4"




---