MCSE ISA Server 2000 Administration Study Guide: Exam 70-227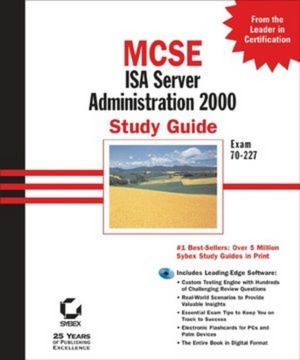 MCSE ISA Server 2000 Administration Study Guide: Exam 70-227
ISBN: 978-0-782-12933-5
Nov 2001
551 pages
Product not available for purchase
Description
Here's the book you need to prepare for Exam 70-227, Installing, Configuring, and Administering Microsoft Internet Security and Acceleration (ISA) Server 2000, Enterprise Edition:
In-depth coverage of every exam objective--all the information you need to know
Practical information on installing and administering ISA Server
Hundreds of challenging review questions, in the book and on the CD
Leading-edge exam preparation software, including a testing engine and electronic flashcards
Authoritative coverage of all exam objectives, including:
Installing ISA Server
Configuring and troubleshooting ISA Server services
Configuring, managing, and troubleshooting policies and rules
Deploying, configuring, and troubleshooting the client computer
Monitoring, managing, and analyzing ISA Server use
Note: CD-ROM/DVD and other supplementary materials are not included as part of eBook file.
Introduction.
Assessment Test.
Chapter 1: Introduction to ISA Server.
Chapter 2: ISA Server 2000 Installation.
Chapter 3: Basic ISA ConÞguration.
Chapter 4: ISA Server and RRAS Integration.
Chapter 5: ConÞguring ISA Server for the Enterprise.
Chapter 6: Client Access.
Chapter 7: Performance Tuning and Optimization of ISA Server.
Chapter 8: Troubleshooting ISA Server.
Glossary.
Index.
Download Images
Zip file containing all graphics files for MCSE: ISA Server 2000 Administration Study Guide.
To uncompress the file, Windows users can use Windows built-in ZIP utilities or a 3rd party utility like WinZip or WinRAR. Macintosh users can simply double-click the downloaded file to extract using the built-in archive utility.
Download
Chapter
Page
Details
Date
Print Run
Combined Errata


Page 236

Question 6 should be choice "A". IPSec not B. L2TP

Page 298

Question 2 change Answer C.to read "You need to change the IP Address to 10.1.1.15."

Page 310

Answer 2. last sentence should read "Changing the address to 10.1.1.15 should fix the problem."

Page 344

Question 1 - wrong server captions (isa=dhcp):
--Note that the server captions should say DHCP instead of ISA. Also,
Windows 3.x clients will have to install a Proxy Server 2.0 client component
because the ISA Firewall Client will not work with Windows 3.x boxes.

Page 357

Question 18 - Last line should read "What is the minimal amount of client or clients needed and how will you install it/them?" not "What client or clients will you use and how will you install it/them?"

Page 384

Reporting, last line first paragraph should read "-there are no default report Jobs created."

Page 492

Answers to Ques. 20 - Should be A, B, and E

Answers for Ques. 19 should be A, C, and E




---