MCSE Windows® XP Professional For Dummies®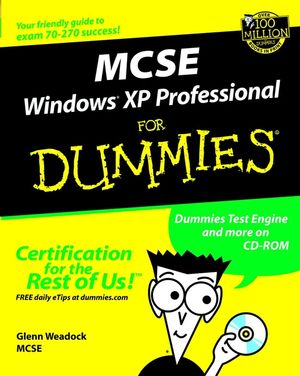 MCSE Windows® XP Professional For Dummies®
ISBN: 978-0-764-51631-3
Mar 2002
480 pages
Product not available for purchase
Description
MCSE Windows XP Professional For Dummies covers installing, configuring, and administering Windows XP Professional as applicable to the MCSE exam. This friendly guide tells you how to apply what you know to taking the test and passing. It whittles down all of the information about Windows XP Pro to give you just what you need to pass the Exam. And it won't put you to sleep!
Introduction.

PART I: The Backdrop.

Chapter 1: The Windows XP Professional Test.

Chapter 2: Fundamentals of Windows XP.

PART II: Planning, Installation, and Basic Configuration.

Chapter 3: Planning the File System.

Chapter 4: Installing Windows XP Professional.

Chapter 5: Configuring the User Environment.

Chapter 6: Configuring Network Components and Protocols.

PART III: Installing and Configuring Hardware.

Chapter 7: Installing and Configuring Disks, Tapes, and Printers.

Chapter 8: Installing and Configuring Displays and I/O Devices.

Chapter 9: Mobile Computers and Power Management.

PART IV: Configuring and Managing Resource Access.

Chapter 10: Managing Local Users and Groups.

Chapter 11: Access Permissions.

Chapter 12: IntelliMirror and Roaming Access.

Chapter 13: Dial-Up Networking and Remote Access.

PART V: Tuning and Troubleshooting Windows XP.

Chapter 14: Performance Optimization.

Chapter 15: Troubleshooting and Recovering Windows XP Systems.

PART VI: The Part of Tens.

Chapter 16: Ten Test-Taking Tips.

PART VII: Appendixes.

Appendix A: Practice Exam.

Appendix B: About the CD.

Index.

End-User License Agreement.
eBook version of the book
The eBook version of the book was left off the CD. You can download it here:

You'll need Acrobat Reader installed on your computer in order to view this document.

Download