MCSE Windows 2000 Directory Services Design Study Guide: Exam 70 - 219, 2nd Edition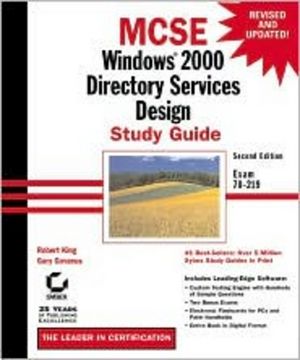 MCSE Windows 2000 Directory Services Design Study Guide: Exam 70 - 219, 2nd Edition
ISBN: 978-0-782-15332-3
Feb 2006
716 pages
Product not available for purchase
Description
Here's the book you need to prepare for Exam 70-219, Designing a Microsoft Windows 2000 Directory Services Infrastructure:
In-depth coverage of every exam objective
Practical information on designing a Directory Services infrastructure
Hundreds of challenging review questions, in the book and on the CD
Leading-edge exam preparation software, including a testing engine and electronic flashcards
Authoritative coverage of all exam objectives, including:
Analyzing business requirements
Analyzing technical requirements
Designing a Directory Service architecture
Designing service locations
Analyzing desktop management business requirements
Designing and planning the OU structure
Planning for coexistence of Active Directory and other directory services
Note: CD-ROM/DVD and other supplementary materials are not included as part of eBook file.
Introduction.
Assessment Test.
Chapter 1: An Overview of Active Directory in Windows 2000.
Chapter 2: Analyzing the Physical Environment.
Chapter 3: Analyzing the Business Environment.
Chapter 4: Analyzing the IT Environment.
Chapter 5: AD Naming Strategies.
Chapter 6: Planning a Domain and Organizational Unit Structure.
Chapter 7: Planning an Efficient Active Directory Design.
Chapter 8: Planning for Desktop Management.
Chapter 9: Planning for Active Directory Connectors.
Chapter 10: Customizing the AD Schema.
Chapter 11: Designing an Effective Rollout Plan.
Glossary.
Index.
Download Images
Download a .zip file with the images referenced in the book.
To uncompress the file, Windows users can use Windows built-in ZIP utilities or a 3rd party utility like WinZip or WinRAR. Macintosh users can simply double-click the downloaded file to extract using the built-in archive utility.
Download
Chapter
Page
Details
Date
Print Run
Combined Errata,

Page 0CD

Readme file incorrectly refers Winsim file WinSim2KDSA.exe, the correct file on the CD is WinSim2KNET_Structure.exe

Page 6

2nd line begins, (except for the data link layer)... . It should read, (except for the physical layer)... .

Page 44

"If no DHCP server responds...
Please change the second sentence of the second paragraph on page 44 to
read:

"If no DHCP server responds within that time, the client repeats its request
four times at intervals of 2, 4, 8, and 16 seconds, plus a random amount of
time between 0 and 1,000 milliseconds."

Matt

Page 59

In the How DNS Resolves Names section, 2nd paragraph, 2nd line, client should be server .

Page 76

Question #13, Option B should read ...Subnet 1... rather than ...Subnet 3...

Page 80

Answer to Question #15 should read : F, B, E, C. See detailed explanation

Page 137

Real World Scenario, 10th line, two driver standards are mentioned: NDIS and TDI, should read NDIS and ODI.

Page 169

Last paragraph, 3rd line, 255 should read 254

Last paragraph, 5th and 6th lines, 241 should read 240

The Tip paragraph: Please reword the fourth sentence of the tip to: You should exclude a range

Page 186

Step 2 of EXERCISE 5.4 should read: :

2. Follow the instructions in exercise 5.3 to create two scopes: one for
192.168.0.2 - 192.168.0.127 and one for 192.168.1.2 - 192.168.1.127"

Page 271

3rd bullet, 4th line, hours should read days . FIGURE 7.2 is correct.

Page 288

Authors Note
Please add the following paragraph immediately after the bullet points
on page 288:

By default you can't be sure if a client is making NBT lookup requests
to a WINS server or if it's broadcasting those requests to the network.
One way to make sure that the client is sending requests to the WINS
server and not making any broadcasts is to change the node type. RFC
1001/1002 defines four node types:
B-node is used by default on clients that aren't configured to query a
WINS server. B-node broadcasts all NBT requests.
H-node is used by default on clients that are configured to use a WINS
server for NBT resolution. H-node clients first query the WINS server,
then broadcast the request if the server is not available or if the name
is not registered in the WINS database.
M-node is the reverse of H-node. M-node clients first send out a
broadcast, and if the name is not resolved, they send the request to the
WINS server.
P-node clients only send name resolution requests to a WINS server and
never make broadcasts.
You can change the node type in the registry, which can be helpful for
troubleshooting or for special name resolution needs. Open the registry
editor by selecting Start > Run and entering regedt32.exe. Add the
following key:
Key:
HKey_Local_Machine\System\CurrentControlSet\Services\NetBT\Parameters\No
deType
Value Type: REG_DWORD - Number
Value: 1, 2, 4, or 8 (1 = b-node, 2 = p-node, 4 = m-node, 8 = h-node)

Page 291

Question #2 is the same as Question #6 on page 293

Page 292

Question 4.
Please change the question after the third sentence to read:

"... WINS server. One of the WINS servers recently failed, and you don't
anticipate getting it back online for at least a week due to internal
management difficulties. You want all the machines on the affected
subnet to be able to access every other machine by name. How should you
accomplish this? Choose all that apply."

And change the options to:

A. Configure the