MIS Cases: Solving Small Business Scenarios Using Application Software, 2nd Edition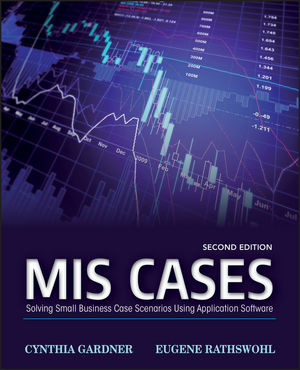 MIS Cases: Solving Small Business Scenarios Using Application Software, 2nd Edition
ISBN: 978-1-118-54425-9 October 2012 176 Pages
Description
Written to provide hands-on cases for use in conjunction with an Introduction to IS/MIS text, MIS Cases: Solving Small Business Scenarios Using Application Software, Second Edition provides opportunities for business students to apply Microsoft Office skills as part of the Intro IS/MIS course. Gardner/Rathswohl is a brief casebook containing twenty-two small business case scenarios that teach students problem-solving and hands-on skills in Excel, Access, and website design.
Table of contents
PART 1 DEVELOPING A DATABASE APPLICATION 1
CHAPTER 1 Access—Tables and Forms 3
Case 1 Up the Hill Bakery 3
Case 2 Dr. Garrett's Chiropractic Office 10
Case 3 Home Town Realty 16
CHAPTER 2 Access—Queries and Reports 24
Case 4 Up the Hill Bakery 24
Case 5 Earth Foods Grocery Store 33
Case 6 Destination Corporate Event
Planning, Inc. 40
CHAPTER 3 Access—Advanced Queries and Reports 47
Case 7 Up the Hill Bakery 47
Case 8 Sun and Beach Clothing 55
Case 9 Just Breathe Yoga Center 62
PART 2 DEVELOPING A SPREADSHEET APPLICATION 79
CHAPTER 4 Excel—Spreadsheet Basics 81
Case 10 Up the Hill Bakery 81
Case 11 Celebrations for Charity 87
Case 12 Dr. William Gardner's Dental Office 92
CHAPTER 5 Excel—Intermediate Design Techniques 98
Case 13 Up the Hill Bakery 98
Case 14 JB Bike Rental 108
Case 15 Torero Tennis Team 114
CHAPTER 6 Excel—Advanced Design Techniques 121
Case 16 Up the Hill Bakery 121
Case 17 Maxine's Travel Agency 131
Case 18 Thomas Paul Investment, Inc. 137
PART 3 DEVELOPING A WEBSITE APPLICATION 143
CHAPTER 7 Website Design 145
Case 19 Up the Hill Bakery 145
Case 20 Bella Spa 150
Case 21 Legends 153
Index 157
New To This Edition
Discussion questions at the end of each case challenge students' critical thinking skills and encourage a higher level of analytical reasoning.
All cases updated to Microsoft Office 2010.
What's New
Each chapter includes a teaching case for class demonstration and two assignment cases that match the skill set of the teaching case.
Skill level for each set of cases progresses from beginning to intermediate to advanced.
           Each case features the following pedagogy:
Preview—Provides a quick synopsis of the small business case and what is to be accomplished within the case.
Skill Set—Lists the skills that will be covered within the case and the skills that should be utilized in completing the assignment following the case. 
Background—Provides a complete description and an expanded explanation of the desired goal of the small business scenario.