MRI at a Glance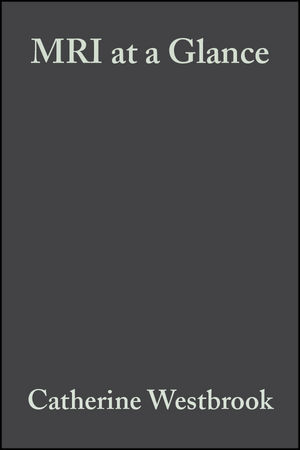 MRI at a Glance
ISBN: 978-1-405-14747-7 February 2009 Wiley-Blackwell 128 Pages
Description
Students of radiology and radiography at both undergraduate and postgraduate level often experience difficulty in learning MRI techniques. This book provides concise, easily accessible information on MRI physics which can be used as a revision tool.

Topics covered include relaxation processes, image contrast, pulse sequences, image production, image quality, artefacts, MRA, instrumentation and safety. Double page spreads for each section will contain a diagram and/or image depicting the main concepts of MR physics together with a succinct account of the topic in bullet points and tables.
Fundamentals I; Alignment.
Fundamentals II: Resonance.
Relaxation Processes I: T1 Recovery.
Relaxation Processes II: T2 Decay.
Image Contrast I: T1 Weighting.
Image Contrast II: T2 Weighting.
Image Contrast III: PD Weighting.
Image Contrast IV: Parameters.
Pulse Sequences I: Spin echo.
Pulse Sequences II: Fast spin echo.
Pulse Sequences III: Inversion recovery.
Pulse Sequences IV: Variations of SE.
Pulse Sequences V: Coherent GE.
Pulse Sequences VI: Incoherent GE.
Pulse Sequences VII: SSFP.
Pulse Sequences VIII: EPI.
Image Production I: Gradients.
Image Production II: Slice selection.
Image Production III: Frequency encoding.
Image Production IV: Data acquisition.
Image Quality I: SNR/CNR.
Image Quality II: Spatial resolution.
Image Quality III: Trade-off issues.
Artefacts I: Chemical shift.
Artefacts II: Chemical Misregistration.
Artefacts III: Fat suppression techniques.
Artefacts IV: Phase mismapping.
Artefacts V: Flow.
Artefacts VI: Equipment faults.
MRA I: Black blood imaging.
MRA II: Bright blood imaging.
MRA III: Time of flight.
MRA IV: Phase contrast.
MRA V: Contrast enhanced MRA.
Contrast media: Contrast agents.
Instrumentation I: Magnets.
Instrumentation II: Coils.
Safety I: Bio-effects.
Safety II: Projectile hazards.
Safety III: Screening and safety issues


written by the author of our bestsellers, MRI in Practice and Handbook of MRI Technique


modelled on the highly successful 'At a Glance' medical series


essential information applicable to students studying for MRI exams at all levels