Mac OS X Power Tools, 2nd Edition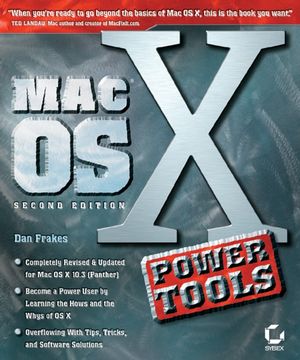 Mac OS X Power Tools, 2nd Edition
ISBN: 978-0-782-15089-6
Feb 2006
656 pages
Product not available for purchase
Description
"Dan Frakes' Mac OS X Power Tools is an essential (and approachable) guide for getting the most from Mac OS X."
—Christopher Breen, Mac 911 Columnist, MacWorld Magazine

Mac Expert Dan Frakes' Turns You Into a Power User

The latest version of Mac OS X (v10.3, Panther) is here, and noted expert Dan Frakes has once again worked day and night to discover and document the best ways for Mac users of all levels of experience to get things done. This completely revised and updated second edition of Mac OS X Power Tools provides tips, shortcuts, and step-by-step solutions to equip you with the most essential insights and knowledge. With this book at your side and your Mac in front of you, you'll understand Mac OS X like never before, saving time, avoiding headaches, and transforming OS X into one very productive cat.

Coverage includes:
Understanding user accounts and permissions
Taking control of the startup and login processes
Embracing and extending Finder functionality
Using the Dock and Dock replacements
Working with applications
Streamlining Mac OS and third-party installations
Making the most of Classic
Improving Web surfing and network connectivity
Sharing files and connecting to servers
Taking advantage of OS X's advanced printing architecture
Strengthening system security
Keeping Mac OS X in tip-top shape
Controlling your Mac remotely
Taking advantage of OS X's Unix base
Visit the author's website at www.macosxpowertools.com/
Introduction.
Part 1: Setup, Startup, and Installing.
Chapter 1: The Power of Permissions: Understanding Users and Unix Organization.
Chapter 2: Sensational Setup.
Chapter 3: Subjugating Startup and Leveraging Login.
Chapter 4: Installations, Inc..
Part 2: Files, Finders, Docks, and Apps (Including Classic).
Chapter 5: Finagle Files and Foil Finder Frustration.
Chapter 6: Developing a Dynamite Dock.
Chapter 7: Application Aptitude.
Chapter 8: Clobbering Classic.
Part 3: The Internet, Networking, Sharing, and Printing.
Chapter 9: Networking Notables and Internet Illuminations.
Chapter 10: Stellar Sharing Strategies.
Chapter 11: Connection Convenience and Remote Control.
Part 4: Mastering Your Mac—Security, Maintenance, and Unix.
Chapter 13: Strengthening System Security and Fine-Tuning Firewalls.
Chapter 14: Mac Maintenance and Administrative Actions.
Chapter 15: Utilizing Unix.
Appendix A: Multiple Mounts, Various Volumes, and Divided Disks.
Index.