Mac OS X Power Tools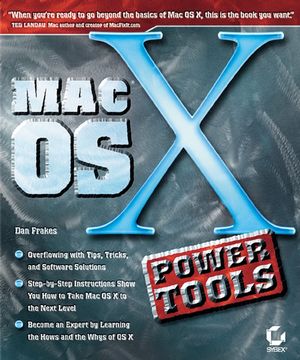 Description
Expert Dan Frakes Toiled Endlessly with OS X So You Don't Have To...
OS X expert and incurable Mac addict Dan Frakes delved into the deepest, darkest regions of Apple's newest operating system to uncover the best and most efficient ways to get things done. The result of his tireless efforts, Mac OS X Power Tools, takes you step-by-step through insightful and essential tips, shortcuts, and solutions. Filled with choice coverage on installation, the Finder, networking, security, Unix, software, and much more—Mac OS X Power Tools is certain to save you countless hours (and frustration) and turn you in to the OS X expert you've always dreamed of becoming.
Coverage includes:
Foiling Finder Frustration
Setting Up Your Mac Sensationally
Mastering Mac OS and Third-Party Software Installations
Developing a Dynamic Dock
Clobbering Classic
Networking and Surfing Superiorly
Connecting Conveniently and Running Remotely
Fine-Tuning Firewalls and Strengthening System Security
Utilizing UNIX
See the author's website at www.macosxpowertools.com
Introduction.
Part I: Setup, Startup, and (In)Stalling.
Chapter 1: The Power of Permissions: Understanding Users and Unix Organization.
Chapter 2: Sensational Setup.
Chapter 3: Subjugating Startup and Leveraging Login.
Chapter 4: Installations, Inc.
Part II: Files, Finders, Docks, and Apps (including Classic).
Chapter 5: Finagle Files and Foil Finder Frustration.
Chapter 6: Developing a Dynamite Dock.
Chapter 7: Apple-ication Aptitude.
Chapter 8: Clobbering Classic.
Part III: The Internet, Networking, Sharing, and Printing.
Chapter 9: Networking Notables and Internet Illuminations.
Chapter 10: Stellar Sharing Strategies.
Chapter 11: Connection Convenience and Remote Control.
Chapter 12: Printing Practicalities.
Part IV: Mastering Your Mac¿Security, Maintenance, and Unix.
Chapter 13: Strengthening System Security and Fine-tuning Firewalls.
Chapter 14: Mac Maintenance and Administrative Actions.
Chapter 15: Utilizing Unix.
Appendix A: A Tale of Two Systems.
Appendix B: Multiple Mounts, Various Volumes, and Divided Disks.
Index.
Bonus Chapter
The following link is for downloading the bonus chapter, a supplement to Chapter 5, from Mac OS X Power Tools.

Requires Adobe Reader.

Download
Chapter
Page
Details
Date
Print Run
31
Line 3
"TechEdit" should be "TextEdit." In addition, "the commercial BBEdit Lite" should read "the commercial BBEdit."

---

89
Final paragraph, line 7
"Tech Edit" should be "TextEdit," and the URL for BBEdit should be http://www.barebones.com/.

---

199
"Use the Desktop as Your Home Folder," Tip Table.


"Use the Desktop as Your Home Folder," Tip Table. Since the instructions that follow include Terminal commands, the Tip Table should clearly say "Terminal: yes" :-)

"Use the Desktop as Your Home Folder, Step 5. "Open Terminal and type..." should read "Open Terminal (make sure you're in your home directory) and type..."

---

357
"Activating the Personal File Sharing Log," second paragraph.
The Terminal command that begins tail -f /Library/Logs/ApplefileService/ should actually begin tail -f /Library/Logs/AppleFileService/. (Note the capital F instead of lower case f.)

---

554
"Documents folders," third paragraph.
The last sentence of the paragraph says "rename it Desktop Folder; it should say "rename it Documents."

---