Mac Toys: 12 Cool Projects for Home, Office, and Entertainment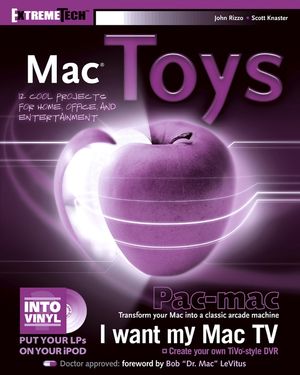 Mac Toys: 12 Cool Projects for Home, Office, and Entertainment
ISBN: 978-0-764-54351-7
Mar 2004
384 pages
Product not available for purchase
Description
How many cool things can you do with your Mac? Well, add 12 more to that list.

If you're one of the millions of Mac owners who like to tinker with their machines and do what their PC brethren can only dream about, this is the book for you.

Mac gurus John Rizzo and Scott Knaster will open your eyes to a dozen cool new tricks you can do with your Mac. Create a Harry Potter style picture frame that puts on a continuous slide show; teach your house to turn on the lights, adjust the thermostat, and water the lawn by itself; edit and record live TV while you watch; and more.

With a dozen new things to do with your Mac, your PC pals are going to envy you more than ever.
Foreword.
Acknowledgments.
Introduction.
Chapter 1: Control Your Lights and Appliances.
Chapter 2: Broadcast Your Own Radio Show.
Chapter 3: Watch, Record, and Edit TV on Your Mac.
Chapter 4: Enhance Your iPod.
Chapter 5: Make a Digital Picture Frame.
Chapter 6:Wireless Networking: Around the Room, Around Your House.
Chapter 7: Make and Mix Your Own Music: Synthesizers, MIDI, and Mix Software.
Chapter 8: Turn Your Mac into a Classic Video Game Machine.
Chapter 9: Convert Your Old Vinyl LPs to CDs.
Chapter 10: Convert Your Home Video and Film to DVDs.
Chapter 11: Make a Killer Video.
Chapter 12: Use Your Mac as a Wireless Jukebox.
Index.
Companion Web Site
Introduction
Welcome to the Mac Toys Companion Web site. You can consider this site an addendum to the Mac Toys book. This is our way of keeping the Mac Toys up-to-date and fresh. You can use this site to check up on the lastest tools for creating your Mac Toys projects. This includes advances in Apple products, as well as in the third-party tools we describe. If necessary, we will revisit the recommendations we made in this book, so that if a better way comes along to build a Mac Toy, we'll let you know about it. From time to time, the Mac Toys Companion Web site will also contain items not directly related to the projects in the book, but which we think you'd be interested in knowing about.
So, if you're interested in the latest and greatest in Mac Toys, check out the Mac Toys Companion Web site.
Update to Chapter 3 - Watch, Record, and Edit TV on Your Mac
The competition has heated up between devices that turn your Mac into a digital video recorder. These are boxes that enabling your Mac to do what your VCR does, as well as let you watch TV on your Mac and skip commercials and pause live TV like a Tivo box.
In Chapter 3, we recommended Formac's Studio TVR for those who wanted the best quality TV viewing and video capturing device for the Mac. Recently, El Gato has expanded its EyeTV product line, making it more competitive with Formac's Studio TVR. A new EyeTV 200 box lists for $349. In response, Formac has cut $100 off of the price of the Studio TVR, which is now $299. The Formac is no longer the most expensive digital video recorder solution for your Mac.
There are two features that puts the new EyeTV 200 on the same playing field as the Formac Studio TVR. The first is FireWire-the original EyeTV was connected to your Mac through the much slower USB port. The second is the ability to encode video in MPEG -2, like the Formac Studio TVR. (The original EyeTV only support MPEG-1.) You can also burn the TV shows recored with EyeTV 200 to DVD discs, if you use Roxio's Toast Titanium (not included).
However, if you also want to use the box to caputure video from VHS tapes, Formac still has the edge. EyeTV doesn't give you DV video format, which means you have to convert EyeTV recordings to DV using QuickTime Pro. (Formac's software is integrated with iMovie.)
El Gato also has two other versions of EyeTV. The EyeTV 300 works with digital satellite television reception. The EyeTV 400 works with digital cable television known as digital terrestrial television, or DVB-T.
Update to Chapter 4 Enhancing Your iPod
At the begining of Chapter 4, we told you that there were two main form factors to consider when buying iPod peripherals-the original iPods, which refers to the first and second generations, and the Docking Port iPods, which is the third generation.
When shopping for iPod peripherals, there is now one more new form factor consider: that of the iPod Mini. The Mini is, well, smaller than than the Docking iPod, but is other very similar. Many peripherals that work with the Docking iPod also will work with the Mini. However, there are iPod accessories, such as cases, armbands, and any device that clips onto the iPod, that don't work with both models. You'll still need to check with the manufacturer before buying an accessory.
Of course, iPod accessories are evolving just as fast as Apple's iPods are. Since we finished Mac Toys, some very cool iPod Toys have appeared, letting you do even more with your iPod. Here are some of the most interesting.
iPod as Dictation Machine, Play Back Machine
Ever wish you could talk into your iPod to take vocal notes? You can with Griffin Technology's iTalk ($35). The tiny iTalk, which plugs in to the top of your iPod, adds a microphone and a audio-to-digital converter for recording your voice or the voice of a lecturer across the room. You don't have to worry about filling up your iPod, either, since the iTalk records in 8 KHz, 16-bit mono-small enough allow thousands of hours of voice notes to be stored on your iPod.
The iTalk also has a surprisingly loud built-in speaker to play back your notes to a group of people. Should you decide to use your headphones, just plug them into the iTalks headphone jack.
Storage for Digital Photos
Another new accessory that turns the iPod into an input device is the Belkin iPod Media Reader ($100). The Media reader reads several types of memory cards from a variety of digital still camers. It's a bit bigger than your iPod, but can be a very handy peripheral for digital photographers that lets one take as many photos as you need. A typical iPod can hold hundreds or thousands of digital photos. Once you get back to your Mac, plug in the iPod, and the photos are transferred to the Mac via FireWire.
The Belkin iPod Media reader is powered by four AAA batteries, which means that it won't drain your iPod battery. It supports six different types of camera memory cards: Supports CompactFlash (Type 1 and 2), Memory Stick, MultiMediaCard (MMC), Secure Digital (SD), and SmartMedia.The reader only works with the Docking iPods, including the Mini iPods.
Battery Options Update
Chapter 4 of Mac Toys presenst describes the Belkin External Battery Pack, a clip-on case that holds AA batteries to power an iPod for an extra 12 hours. More recently a small company called BTI has come up with an external rechargable battery that clips on to the iPod. The BTI iPod Battery has the same price as the Belkin ($60) but can store up to 40 hours of battery life.
In-Dash iPod for Your Car
Mac Toys describes several method to play your iPod's music from over your car stereo, and it keep it powered up. One new method goes even further, letting you control the iPod from your car stereo's control panel. Several companies have announced in-dash systems the give you permanent wires to plug in your iPod. This type of direct connection to your car stereo will produce better sound than the wireless FM or cassette player devices.
Dension USA now offers the ICE-Link, an interface box that makes the iPod act like the CD changer, letting you control it from your CD player's controls, or from your steering wheel, if your car is equiped as such. A wire will hang down from under the dashboard to connect to the iPod's headphone and FireWire ports, which will charge the iPod's battery. There are also ICE-Link options for mounting the iPod.
ICE-Link models will work with the first and second generation iPods, as well as the Docking iPods. ICE-Link is priced in the $149-to-249 range, depending on the car and options.
If you are looking to buy a new car stereo, check out Alpine Electronics new iPod-Ready receivers, which already have an iPod interface built into them. (Alpine is the first car stereo manufacturer to announce built-in iPod support.) It also will let you plug in the iPod through a built-in cable, and control the iPod from the car stereo buttons and display. If you already have an Alpine stereo, the company will be introducing an iPod Ready Interface Kit in the late summer of 2004 through authorized Alpine dealers.
Update to Chapter 7 Make and Mix Your Own Music- Synthesizers, MIDI, and Mix Software
Since Mac Toys was published, Apple's Garage Band is the biggest new product for making music with your Mac. Garage Band is part of Apple's $49 iLife '04 bundle, which also comes loaded on brand new Macs. Garage Band is very nifty low-end home studio/MIDI sequencer. It was designed in part by the people at eMagic, the high-end music software company that Apple now owns. Garage Band excels in its interface, the way it hides a lot of the complexity from the user.
Garage Band includes a basic 64-track MIDI sequencer that has some audio recording capabilities, as well as a software synthesizer. It also comes with over 1000 MIDI loops-drum tracks, guitar riffs, and other sounds that you can use in your tracks, as well as 50 synthesizer sounds.
So where does Garage Band fit into the software we described in Chapter 7? You may remember that the former low-end MIDI sequencers included the $100 Master Tracks Pro ($100) from GVOX, another 64-track MIDI sequencer . We also recommended Emagic's $100 MicroLogic, which has now been discontinued with the advent of the lower-priced Garage Band. Just as iMovie is the place to start with video editing, Garage Band is now the place to start with MIDI sequencing. If (or when you start) running into limitations, it's time to move up to one of the other packages described in Chapter 7.
From all the gushing about Garage Band from Mac reviewers, you would think that there are no limitations. Those writers who say that Garage Band is a professional tool just don't know know the pro tools. For instance, while Garage Band's percussion synth sounds are great, the strings and brass are not up to pro quality. Garage Band has fairly basic mixing capabilites, and lacks more advanced sequencer  features, such as a step sequencer. The professional tools also let you automate or adjust just about anything, and support one or more types of plugin architecture. Garage Band doesn't come close to Apple's Emagic Logic Audio Platinum or Steinberg's Cubase, or a top-end synthesizer such as Reason from Propellerhead Software.
In the end, Garage Band is a great value, probably worth two or three times the price, a lot of fun, and should be your first MIDI sequencer. Just remember that more advanced tools are out there when you're ready for them.
Update to Chapter 10 Convert your Home Video and Film to DVDs; and Chapter 11, Make a Killer Video.
We're combinging the update for two chapters here, because the same product, Apple's new iLife '04, applies to both. Specifically, iMovie 4 and iDVD 4 add some useful new features for converting your VHS video to DVD and for making a new movie from scratch. The new version is worth the $49 Apple charges for it. (iLive is also free with new Macs.)
iMovie 4 gives you more editing features. You can now edit multiple clips and transitions simultaneously. Just select them and perform your edit. It's now easier to syncronize the audio and video using alignment guides. iMovie will play the audio as you scrub through the video with the scrub head. And, you can now display a waveform with you edit audio, just like in an audio editing program. There are also now more (and easier) ways to trim videoclips. For instance, you can trim both video and audio clips in the Timeline. You can also tag important frames in your movie with bookmarks, which let you instantly go back to any part of the movie.
iDVD also has some new tricks. For one, more people can now use iDVD. In Chapter 10, we told you that you had to use other software to lay out your DVD disc if your Mac didn't have an internal DVD burner drive. With iDVD 4, though you still cannot  burn on an external burner drive, you can now install and run iDVD on your Mac, enabling you to design your DVD on a Mac without an internal drive. To burn the CD, you'll have to move your project to another Mac with an internal DVD burner. (Remember, video is big, so an external hard drive or a local network will be the best ways to move the project. Email isn't going to cut it.) iDVD also has a new Map View,  a graphical depiction of what's on the disc that lets you click to go anywhere on your DVD. You can now also put more video on a DVD with iDVD 4-up to two hours worth.
Lost Toys: Vignettes
We didn't get a chance to include all the stuff we dreamed up for Mac Toys. One idea was to pay tribute to great Mac Toys of the past through a feature we called Vignettes. We were going to feature a few of these vignettes as transitions between chapters, but they didn't make it into the book. Here are a few of our favorites:
Macquariums
For some reason, Macs have a long tradition of inspiring people to turn them into homes for fish. I saw the first Macquarium in early 1985, designed and built by Bill Dawson in Apple's Developer Technical Support group. Now, Macquariums are everywhere. Just search for "macquarium" with your favorite image search engine to see how creative some folks can be.
One of the coolest projects is making an aquarium out of a G4 cube: http://homepage.mac.com/mulls/toys/PhotoAlbum48.html .
The Mac Really is a Typewriter, After All
Macintosh author Robin Williams has a wonderful book about text and typography called The Mac is not a typewriter.  But in the case of the ElectriClerk (http://www.ahleman.com/ElectriClerk6.html), the Mac is the typewriter. ElectriClerk is a Mac permanently and initmately attached to a 1923 Underwood typewriter. The result is very cool and looks like something that was used in Terry Gilliam's Brazil.  And it really works!
Mac as Super-telescope
When the space shuttle Columbia was lost in early 2003, NASA gathered photographic evidence of the disaster from around the country. One important picture was reportedly snapped with a high-powered telescope at Starfire Optical Range at Kirtland Air Force. But there was a misunderstanding: the photo was actually taken with an 11-year-old Macintosh and a commercially available telescope. You can read about the whole story, and see the photo, here: http://www.cnn.com/2003/TECH/space/02/12/shuttle.photo.ap/ .
Case Mods
Most Mac users (and lots of envious PC owners) are in love with Apple's cool industrial designs for its computers. But some people like to work their own artistic magic on their Macs' enclosures. Check out this case modssite at http://www.applefritter.com/hacks/desktops.html to see how some people have made their Macs candy-colored, rock-like, or even surrounded by cases made out of Lego.
The Ultimate Mac Toy
In the book we had a lot of fun making Macs into video game machines, digital picture frames, and home appliance controllers. But how would you like your Mac to be a supercomputer? That's what happened at Virginia Tech, where a team led by Dr. Srinidhi Varadarajan turned 1100 Power Mac G5 computers into the third fastest supercomputer in the world. You can read about this incredible project at http://www.apple.com/education/science/profiles/vatech/