MacBook Air Portable Genius, 2nd Edition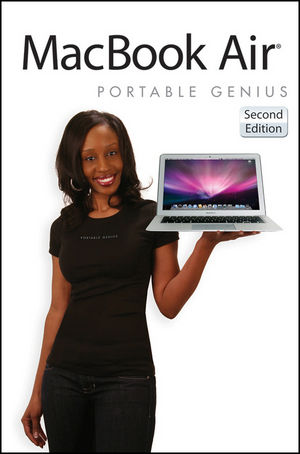 MacBook Air Portable Genius, 2nd Edition
ISBN: 978-1-118-07721-4
Feb 2011
352 pages
Product not available for purchase
Description
Get the most from Apple's ultracool new MacBook Air
Apple's newest MacBook Air is smaller, lighter, and more powerful than ever. And this convenient little book is loaded with tips and techniques for everything from getting started with your MacBook Air to maximizing power and battery life. Learn innovative ways to accomplish a task more efficiently, master the new features of the MacBook Air, and take advantage of all the remote features and accessories. Fun, hip, and portable, this guide has what every Mac fan needs to know about the MacBook Air.
The new MacBook Air features flash storage, longer battery life, a full-sized keyboard with multitouch trackpad, WiFi and Bluetooth connectivity, and extreme portability
This convenient, portable guide explains popular new features and how to make the most of them
Covers all the key skills, tools, and shortcuts to make you a more efficient MacBook user
Includes plenty of hip tips for configuring the multitouch trackpad, maximizing power, streamlining common tasks, and more
As cool as the MacBook Air itself, this book has what you need to maximize your portable computer.
Acknowledgments ix
Introduction xviii
Chapter 1: How Do I Connect Devices?
Chapter 2: How Do I Make Wireless Connections?
Chapter 3: How Do I Synchronize MacBook Air with Other Devices?
Chapter 4: How Do I Use MacBook Air to Organize My Real Life?
Chapter 5: How Do I Use MacBook Air to Organize My Online Life?
Chapter 6: Can MacBook Air Help Me Communicate More Effectively?
Chapter 7: How Do I Keep MacBook Air Running Smoothly?
Chapter 8: How Do I Maintain the Battery?
Chapter 9: How Do I Maintain the Hard Drive?
Chapter 10: How Do I Solve MacBook Air Problems?
Chapter 11: How Do I Solve Specific Software Problems?
Chapter 12: How Do I Solve Specific Hardware Problems?
Appendix A: MacBook Air Online Resources.
Appendix B: MacBook Air Shortcut Keys.
Glossary.
Index.