Macromedia® FlashTM MX For Dummies®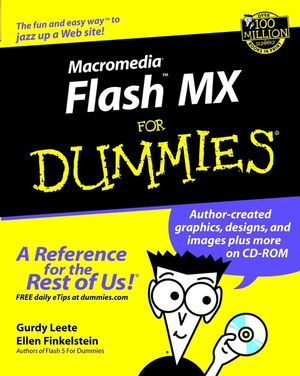 Macromedia® FlashTM MX For Dummies®
ISBN: 978-0-764-50895-0
Apr 2002
408 pages
Product not available for purchase
Description
Covers the essentials that new Flash users need to create basic Flash animations, including creating Flash-ready graphics, animating the graphics, and adding sound and interactive elements.
Series features: Includes the simple instructions targeting beginning audiences that have pushed the For Dummies series to over 100 million books in print.
ABOUT THE CD-ROM
CD includes a trial version of Flash as well as other Macromedia tools including Dreamweaver and Fireworks.
Introduction.

Part I: A Blast of Flash.

Chapter 1: Getting Acquainted with Flash MX.

Chapter 2: Your Basic Flash.

Part II: 1,000 Pictures and 1,000 Words.

Chapter 3: Getting Graphic.

Chapter 4: You Are the Object Editor.

Chapter 5: What's Your Type?

Chapter 6: Layer It On.

Part III: Getting Symbolic.

Chapter 7: Heavy Symbolism.

Chapter 8: Pushing Buttons.

Part IV: Total Flash-o-Rama.

Chapter 9: Getting Animated.

Chapter 10: Getting Interactive.

Chapter 11: Extravagant Audio, High-Velocity Video.

Part V: The Movie and the Web.

Chapter 12: Putting It All Together.

Chapter 13: Publishing Your Flash Files.

Chapter 14: Frequently Asked Questions.

Part VI: The Part of Tens.

Chapter 15: The Top Ten Web Design Tips.

Chapter 16: The Ten Best Flash Resources.

Chapter 17: Ten Great Web Sites That Use Flash.

Part VII: Appendixes.

Appendix A: Installing Flash and Setting Your Preferences.

Appendix B: The Toolbox and the Panels.

Appendix C: What Those Obscure Terms Really Mean.

Appendix D: What's on the CD-ROM.

Index.

End-User License Agreement.