Macromedia Flash MX 2004 For Dummies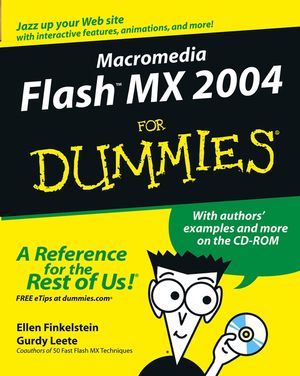 Macromedia Flash MX 2004 For Dummies
ISBN: 978-0-764-54358-6
Oct 2003
408 pages
Product not available for purchase
Description
Macromedia Flash MX 2004 For Dummies guides beginning animators through the basics of creating their first Flash animations. Authors Ellen Finkelstein and Gurdy Leete, both experienced Flash professionals and trainers, help users create basic figures, add text and layers, incorporate user actions, edit and add sound, and publish the final results. Macromedia Flash MX 2004 For Dummies comes with a CD that includes all the examples used in the book, sample animations from other Flash users, and a trial version of the product itself.
Introduction.
Part I: A Blast of Flash.
Chapter 1: Getting Acquainted with Flash MX 2004.
Chapter 2: Your Basic Flash.
Part II: 1,000 Pictures and 1,000 Words.
Chapter 3: Getting Graphic.
Chapter 4: You Are the Object Editor.
Chapter 5: What's Your Type?
Chapter 6: Layer It On.
Part III: Getting Symbolic.
Chapter 7: Heavy Symbolism.
Chapter 8: Pushing Buttons.
Part IV: Total Flash-o-Rama.
Chapter 9: Getting Animated.
Chapter 10: Getting Interactive.
Chapter 11: Extravagant Audio, High-Velocity Video.
Part V: The Movie and the Web.
Chapter 12: Putting It All Together.
Chapter 13: Publishing Your Flash Files.
Part VI: The Part of Tens.
Chapter 14: Frequently Asked Questions.
Chapter 15: The Top Ten Web Design Tips.
Chapter 16: The Ten Best Flash Resources.
Chapter 17: Ten Great Web Sites That Use Flash.
Part VII: Appendixes.
Appendix A: Installing Flash and Setting Your Preferences.
Appendix B: The Property Inspector and the Panels.
Appendix C: What Those Obscure Terms Really Mean.
Appendix D: What's on the CD-ROM.
Index.
End-User License Agreement.