Macromolecules Containing Metal and Metal-Like Elements, Volume 7: Nanoscale Interactions of Metal-Containing Polymers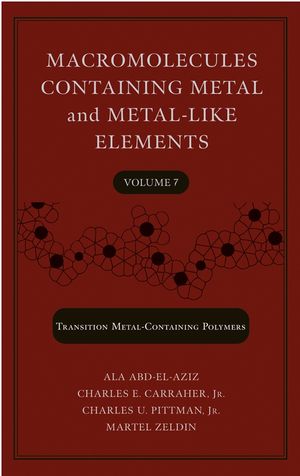 Macromolecules Containing Metal and Metal-Like Elements, Volume 7: Nanoscale Interactions of Metal-Containing Polymers
ISBN: 978-0-471-77325-2 November 2005 368 Pages
Description
This series provides a useful, applications-oriented forum for the next generation of macromolecules and materials. This volume, seventh in the series, covers nanoscale interactions of metal-containing polymers. Example chapters include:
* Nanoscale Clusters and Molecular Orbital Interactions in Macromolecular-Metal Complexes
* Metal Oxide Clusters as Building Blocks for Inorganic-Organic Hybrid Polymers
Preface. Series Preface.
1. Nanocluster Assemblies and Molecular Orbital Interaction in Macromolecule-Metal Complexes (Laurence A. Belfiore and Sarah E. Fenton).
I. Introduction. II. Methodology of Transition Metal Coordination in Polymeric Complexes. III. Jørgensen's Parametric Representation of Ligand Field Splitting and Interelectronic Repulsion. IV. Psudo-Octahedral d<sup>8</sup> Nickel Complexes with Poly(4-vinylpyridne). V. d<sup>6</sup> Molybdenum Carbonyl Complexes with Poly(vinylamine). VI. Cobalt, Nickel, and Ruthenium Complexes with Poly(4-vinylpyridine) and Poly(L-histidine) that Exhibit Reduced Symmetry in the
Molten
State
. VII. Total Energetic Requirements to Induce the Glass Transition via Consideration of the First-Shell Coordination Sphere in Transition Metal and Lanthanide Complexes. VIII. Summary. IX. Acknowledgments. X. References.
2. Metal Oxide Clusters as Building Blocks for Inorganic-Organic Hybrid Polymers (Ulrich Schubert).
I. Introduction. II. Synthesis of Organically Modified Transition Metal Oxide Clusters. III. Synthesis and Structural Characterization of the Cluster-Reinforced Polymers. IV. Properties of the Cluster-Based Hybrid Polymers. V. Summary. VI. Acknowledgments. VII. References.
3. Metal-Containing Polydyes (Charles E. Carraher).
I. Introduction. II. Group IVB-Containing Polydyes. III. Ruthenium-Containing Polydyes. IV. Hematoporphyrin-Containing Polydyes. V. Summary/VI. References.
4. Metallopolymer Nanocomposite-Macromulecular Metallocomplexes as Precursors for Polymers, Polymer Inorganics, and Bionanocomposites (A. D. Po,ogailo).
I. Introduction. II. General Characteristics, Classification of Nanoparticles by Size, Structural Organization, and Dimensional Phenomena. III. Problems of Stabilization of Metal Nanoparticles by Polymers. IV. Basic Considerations of the Combinations of Macromolecules and Metals. V. Typical Formation Processes and the Structure of Nanometric Metal particles in Polymers. VI. Preparation of Hybrid Nanocomposites by the Sol-Gel Method. VII. Sol-Gel Preparation of Nanohybrid Multimedia Materials. VIII. Intercalation of Polymers Into Porous and layered Nanostructures. IX. Metal Chalcogenide-Polymer Includion Nanocomposites. X. Metallopolymeric Langmuir-Biodgett Films-Self Organized Hybrid Nanocomposites. XI.   Nanometer-Size Particles, Clusters, and Polynuclear Structures Immobilized in Biopolymers and Their Analogs. XII. Application of Polymer-Immoblized Metal Nanoparticle and Metal Cluster Nanocomposites. XIII. Conclusion. XIV. Acknowledgments. XV. References. Index.
"….useful to specialists in this interdisciplinary field…" (Journal of the American Chemical Society, April 12, 2006)