Macromolecules Containing Metal and Metal-Like Elements, Volume 8: Boron-Containing Particles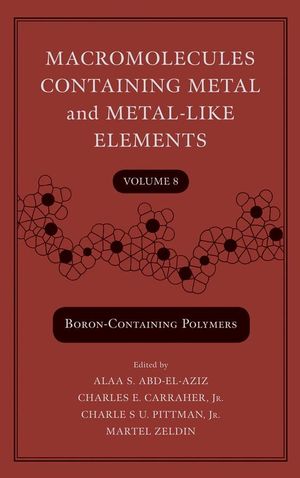 Macromolecules Containing Metal and Metal-Like Elements, Volume 8: Boron-Containing Particles
ISBN: 978-0-470-13964-6 August 2007 225 Pages
Description
This series provides a useful, applications-oriented forum for the next generation of macromolecules and materials.
Applications include non-linear optical materials, specialty magnetic materials, liquid crystals, anticancer and antiviral drugs, treatment of arthritis, antibacterial drugs, antifouling materials, treatment of certain vitamin deficiencies, electrical conductors and semiconductors, piezoelectronic materials, electrodes, UV absorption applications, super-strength materials, special lubricants and gaskets, selective catalytic and multi-site catalytic agents.
Table of contents
Preface.
Series Preface.
Chapter 1. The State of the Art in Boron Polymer Chemistry (Manoj K. Kolel-Veetil and Teddy M. Keller)..
Chapter 2. Polymers Incorporating Icosahedral closo-dicarbaborane units (Mogon Patel and Anthony C. Swain).
Chapter 3. Boron and Nitrogen Containing Polymers for Advanced Materials (Philippe Miele and Samuel Bernard).
Chapter 4. Organoboron Polymers (Yuuya Nagata and Yoshiki Chujo).
Chapter 5. Boron and Nitrogen Containing Polymers (Philippe Miele, David Cornu and Bérangère Toury).
Chapter 6. Organoboron Polymer Electrolytes for Selective Lithium Cation Transport (Noriyoshi Matsumi and Hiroyuki Ohn).
Reviews
"This is what a book for an advanced or professional reader should be like. It would be a very good read for an advanced reader in modern materials science with a little forehand knowledge or organic chemistry." (Journal of Metals, January 15, 2009)