Macs For Dummies, 10th Edition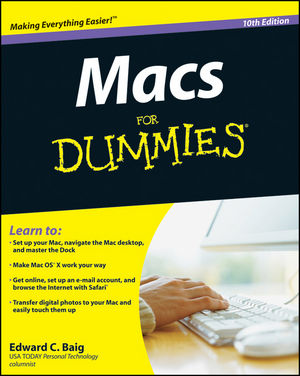 Macs For Dummies, 10th Edition
ISBN: 978-0-470-45678-1
Jan 2009
408 pages
Product not available for purchase
Description
Whether you're thinking of switching to a Macintosh computer, are looking into the latest Apple products, or have a Mac and want to learn about Mac OS X Leopard, then Macs For Dummies, 10th Edition will get you going. Here you'll learn all about how to compare the different desktop and laptop models to choose your perfect match, make Mac OS X Leopard work your way, use the new iLife 2008 digital lifestyle applications, get online and connect to a wired or wireless network, and run Windows on your Mac so you can keep the Microsoft programs you need. You'll also discover how to:
Navigate your way around the Mac interface and work with icons and folders
Best utilize OS X, work with the new Photo Booth, and manage clutter with Exposé and Spaces
Get connected, start a Web-browsing Safari, use e-mail and iChat, and shop online
Join .Mac and take advantage of iDisk backups, IMAP mail, and Web Gallery
Explore all that iTunes offers, process digital photos with iPhoto, make iMovies, and have fun with GarageBand
Use Windows on your Mac and transfer Windows files
It's a perfect time to join the Mac generation, especially if you're a Windows user who's been thinking of defecting. Macs For Dummies, 10th Edition will get you there, helping you pick peripherals, download freebie programs, set up user accounts, implement security secrets, troubleshoot your Mac, and experience the iLife.
Introduction.
Part I: Freshman Year at Drag-and-Drop Tech.
Chapter 1: Adventuring into the Mac World.
Chapter 2: The Nuts and Bolts of Your Mac.
Chapter 3: Getting to the Core of the Apple.
Chapter 4: Here a Mac, There a Mac, Everywhere a Mac Mac.
Part II: Mac Daily Dealings.
Chapter 5: Making the Mac Your Own.
Chapter 6: Apple's Feline Fetish.
Chapter 7: Handling All That Busy Work.
Chapter 8: Printing and Faxing.
Part III: Rocketing into Cyberspace.
Chapter 9: Stairway to the Internet.
Chapter 10: Going Postal Over E-Mail.
Chapter 11: Caught Up in the Web.
Chapter 12: Joining MobileMe, the Club That Will Have You for a Member.
Chapter 13: Mounting a Defense Strategy.
Part IV: Getting an iLife.
Chapter 14: Living in an iTunes Nation.
Chapter 15: Taking an iPhoto Close-Up.
Chapter 16: Shooting an iMovie Screen Test.
Chapter 17: The Show Must Go On.
Part V: The Creepy Geeky Section.
Chapter 18: Networking Madness.
Chapter 19: Surviving in a Windows World.
Chapter 20: Handling Trouble in Paradise.
Part VI: The Part of Tens.
Chapter 21: Ten Clever Dashboard Widgets.
Chapter 22: Ten Indispensable Mac Web Sites.
Chapter 23: Ten Things to Leave You With.
Index.