Macs For Seniors For Dummies, 2nd Edition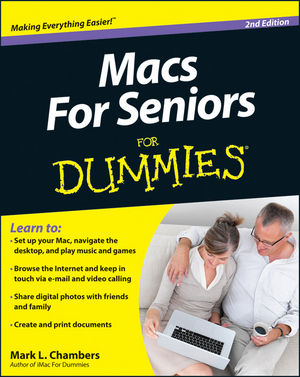 Macs For Seniors For Dummies, 2nd Edition
ISBN: 978-1-118-24057-1
Apr 2012
384 pages
Product not available for purchase
Description
You're never too old to fall in love—with your Mac!
You took a while, but you are now the proud owner of your first Mac computer. Macs For Seniors For Dummies is just for you. This friendly, accessible guide walks you through choosing a Mac and learning how to use it. You'll find yourself falling head over heels for your Mac in no time.
Macs For Seniors For Dummies introduces you to all the basics that you need to know: turning the Mac on and getting connected; using the keyboard and mouse; working with files and folders; navigate around the Mac desktop and OS X Lion; setting up an Internet connection and e-mail; and much more.
Shows Mac newbies how to surf safely with Safari, video chat with FaceTime, and connect with friends and family online
Covers choosing the Mac that's right for you, setting it up, running programs and managing files, and hooking up a printer
Features ways to have some fun, too, with digital photos and videos, music, movies, games, apps, and more
Includes tips on troubleshooting and taking care of your Mac
Your Mac can do so much more than you ever imagined and Macs For Seniors For Dummies shows you how!
Introduction 1
Part I: Buying and Setting Up Your Mac 7
Chapter 1: Buying a Mac 9
Chapter 2: Setting Up Your Mac 23
Part II: Getting Started with Your Mac 49
Chapter 3: Getting Around the Mac Desktop 51
Chapter 4: Customizing Lion 83
Chapter 5: Working with Files and Folders 105
Chapter 6: Working with Printers, Scanners, and Faxes 127
Chapter 7: Getting Help 137
Part III: Having Fun and Getting Things Done with Software 149
Chapter 8: Creating Documents with Pages 151
Chapter 9: Working with Numbers and Finances 171
Chapter 10: Get the Most from Movies and Digital Photos 189
Chapter 11: Enjoying Music, Video, and Podcasts 211
Chapter 12: Playing Games in Lion 231
Part IV: Exploring the Internet 241
Chapter 13: Understanding Internet Basics 243
Chapter 14: Browsing the Web with Safari 261
Chapter 15: Keeping in Touch by E-Mail 283
Chapter 16: Connecting with People Online 309
Part V: Taking Care of Your Computer 327
Chapter 17: Protecting Lion 329
Chapter 18: Maintaining Your Mac 341
Index 349
Updates
Check back here for updates.